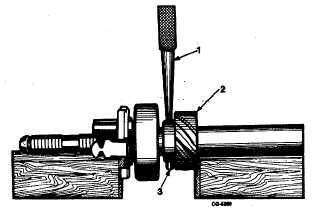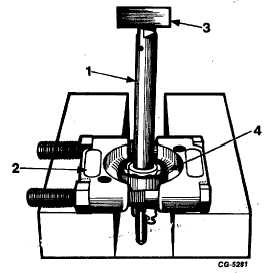 ENGINE DIVISION SERVICE MANUAL
TM 5-4210-230-14&P-1
1.
Remove   trigger   wheel   assembly   and   mechanical
advance   components   from   distributor   shaft.      (See
Mechanical Advance System Service).
2.
Support   distributor   shaft   and   drive   roll   pin   from
tachometer   drive   gear   using   punch   and   hammer
(Figure 39).
Fig. 39  Removing Tachometer Drive Gear Pin
1.  Punch
2.  Tachometer drive gear
3.  Roll pin
3.
Remove tachometer drive gear from distributor shaft.
4.
Remove bearing from distributor shaft as follows:
a.
Position  bearing  puller  attachment  SE-1336-
16  (Owatonna  No.  950  or  equivalent)  under
bearing (Figure 40).
IMPORTANT
Avoid    distorting    advance    weight    plate    when
installing bearing puller.
b.
Support bearing puller in press bed and press
shaft from bearing.
Fig.  40  Removing Tachometer Drive Bearing
Using SE-1336-16 Bearing Puller
1.  Distributor shaft
2.  Puller
3.  Press ram
4.  Bearing
5.
Install new bearing as follows:
a.
Using a piece of pipe 12.7 mm (1/2 inch) I.D.
x 60 mm (2¼  inches) long as a support base
(Figure 41), position distributor shaft in press.
b.
Place  bearing  on  distributor  shaft  with  sealed
side toward advance weight plate.
c.
Using  a  piece  of  pipe  12.7  mm  (½  inch)  I.D.
of    suitable    length    as    a    driver    tool,    press
bearing onto shaft to a dimension of 14.3 mm
(9/16   inch)   from   bottom   of   advance   weight
plate to bottom of bearing (Figure 41).
CGES-145-U  Page 18
PRINTED IN UNITED STATES OF AMERICA