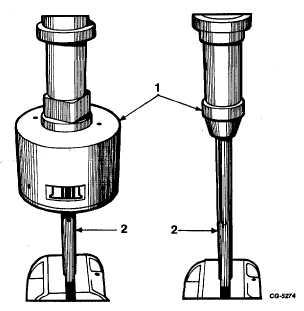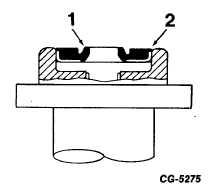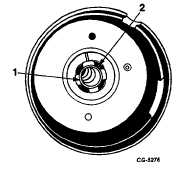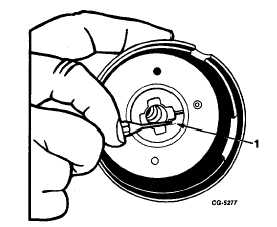 ENGINE DIVISION SERVICE MANUAL
TM 5-4210-230-14&P-1
Fig. 33  Burnishing Upper and Lower
Bushings Using Burnisher Tool.
1.  Housing
2.  Burnisher
8.
On distributors  for  V-537  engine,  press  new  oil  seal
into lower end of housing until seal is flush with end
of housing.
Lip of seal must face outward as shown in Figure 34.
Fig. 34  Oil Seal Installation (Distributors) for V-537
Engine.
1.  Lip of seal to face outward
2.  Install seal flush with distributor housing
9.
On  distributors  without  tachometer  drive,  fill  upper
bushing lubricant reservoirs as follows:
a.    

Fill reservoirs (Figure 35) with lubricant (oil
saturated cotton).
At distributor manufacture, reservoirs are filled with
Permawick #560NP which is also recommended for
use  at  distributor  overhaul.    Where  this  product  is
not available, adequate lubrication can be obtained
by packing lubricant reservoirs with cotton (such as
medical   or   cosmetic   cotton   balls)   saturated   with
engine oil.
Fig. 35  Upper Bushing Lubricant Reservoirs
(Distributors Without Tachometer Drive)
1.  Bushing
2.  Lubricant Reservoir
b.
Wipe    excess    oil    from    floor    of    distributor
housing   and   install   grease   retainer   washer
(Figure  36).    Tangs  of  washer  must  lock  into
groove in upper bushing.
Fig. 36  Installing Grease Retainer Washer (Distributors
Without Tachometer Drive)
1.  Grease Retainer
CGES-145-U  Page 16
PRINTED IN UNITED STATES OF AMERICA