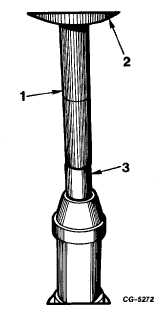 ENGINE DIVISION SERVICE MANUAL
TM 5-4210-230-14&P-1
4.
Lubricate outer diameter of new lower bushing with a
light coat of grease and start bushing into distributor
housing bore.
5.
Position distributor housing in press.  Insert bushing
installer (SE1955-7) into bushing (Figure 31).
Fig. 31  Installing Lower Bushing using Installer SE-1955-7.
1.  Installer
3.  Lower Bushing
2.  Press Ram
6.
Press    lower    bushing    into    housing    to    dimension
shown in Figure 32.
On  distributors  for  all  engines  except  V-537,  2.4  mm  (3/32
inch) below bottom end of distributor housing.
On distributors for V-537 engines, flush with surface of oil seal
counterbore.
Fig. 32  Lower Bushing Location Dimensions.
1.  All distributors except for V-537 engine
2.  Distributor for V-537 engine
3.  Bushing
4.  Bushing flush with housing.
5.  2.4 mm (3/32 in.)
After   bushings   have   been   installed,   check   fit   of   distributor
shaft in bushings.  Size bushings if necessary to obtain .008 -
.038 mm (.0003 - .0015 inch) running clearance.
IMPORTANT
The    oilite    bushings    should    not    be    reamed.
Swelling   and   burrs   may   be   removed   with   a
burnishing
tool.
For
distributors
without
tachometer  drive,  use  burnisher  tool  SE-1955-2.
For    distributors    with    tachometer    drive,    use
burnisher tool SE-2779.
7.
If  shaft  passes  through  upper  bushing  but  binds  in
lower bushing, burnish lower bushing.  Burnish lower
bushing only.  If shaft does not pass through or binds
in   upper   bushing,   burnish   upper   bushing   first   and
repeat    check    for    shaft    fit.        Then    burnish    lower
bushing, if needed.
To burnish bushings:
a.
Place  flat  end  of  burnisher  in  a  vise.    Coat
burnisher with SAE-20 engine oil.
b.
Burnish   upper   bushing   by   carefully   placing
distributor  housing  on  burnisher  and  rotating
the   housing   clockwise   using   light   pressure
until tool passes through bushing (Figure 33).
c.
Burnish   lower   bushing   per   step   "b"   above.
CGES-145-U  Page 15
PRINTED IN UNITED STATES OF AMERICA