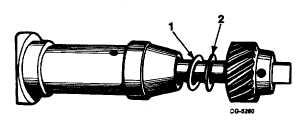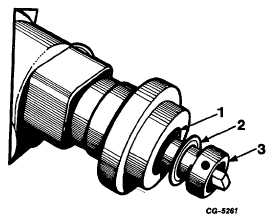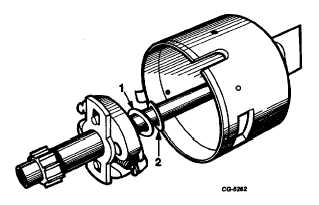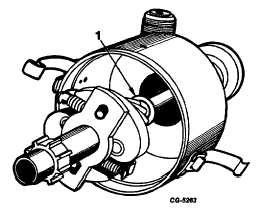 ENGINE DIVISION SERVICE MANUAL
TM 5-4210-230-14&P-1
7.
Place distributor housing and shaft assembly in a press
and    press    gear    or    thrust    collar    and    lower    thrust
washers, Figures 19 and 20, from shaft.
Fig. 19 Lower Thrust Washers (All Distributors Except for V-
537 Engine).
1.  Thrust Washer (Inner)
2.  Thrust Washer (Outer)
Fig. 20 Lower Thrust Washer (Distributor for V-537 Engine)
1.  Seal
2.  Thrust Washer
3.  Thrust Collar
8.
Withdraw   distributor   shaft   assembly   from   distributor
housing.  Be careful not to lose upper thrust washer(s)
(Figures 21 and 22).
Fig. 21 Upper Thrust Washers (Distributors Without
Tachometer Drive)
1.  Thrust Washer (Outer)
2.  Thrust Washer (Inner)
Fig. 22 Upper Thrust Washer (Distributors With Tachometer
Drive)
1.  Thrust Washer
CGES-145-U  Page 11
PRINTED IN UNITED STATES OF AMERICA