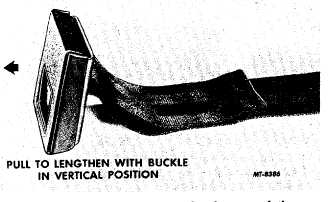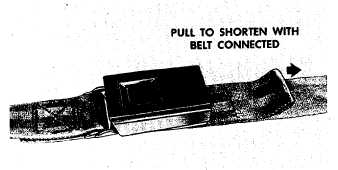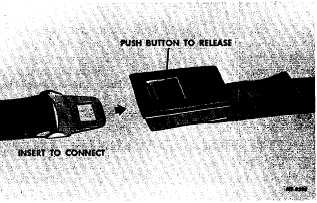 TM 5-4210-230-14&P-1
CONTROLS
REAR VIEW MIRROR
The rear view mirror contributes to safe operation of
the vehicle and can be adjusted to the position desired by the
operator.
RECEPTACLE (Ash)
The  ash  receptacle  is  located  in  the  center  of  the
instrument  panel  and  is  convenient  to  both  the  operator  and
passenger.
SEAT ADJUSTMENT
(Standard Seat)
Position yourself behind the steering wheel and push
the seat adjustment lever toward the rear of cab to release the
locking mechanism. Then move the seat forward or backward
to desired position.
Adjustment   instructions   for   optional   seats   may   be
found on seat base.
SEAT BELTS
Use  of  Seat  Belts.   Seat  belts  should  be  worn  at  all
times.    Before  fastening  a  front  seat  belt,  always  adjust  the
driver's seat to the position in which you will drive.  Seat belts
should   be   worn   across   the   pelvic   region   (hip   bone)   and
adjusted    snugly.        Never    adjust    a    seat    belt    across    the
abdomen.
To   Lengthen

  

  

Tip   the   buckle   end   downward,   as
shown, and pull the buckle until the ends can be joined.  Insert
tongue  into  open  end  of  buckle  and  snap  together.    The  belt
can be shortened after it is connected by pulling on the loose
end until the belt is snug and comfortable.
To  Release

 

 

Push  in  on  the  button  release  latch  to
release the seat belt.
Always  pull  the  belt  completely  out  of  the  retractor
before adjusting and fastening the other half of the belt unit.
Care of Seat Belts

 

Seat belts should receive the same care
as the finest fabric.  Clean with mild soap; do not use cleaning
solvents or abrasives.
CAUTION
Do   not   bleach   or   re-dry   color   webbing   as
same may cause a severe loss of strength.
This loss of strength could allow the seat belt
to break upon vehicle impact, thus resulting in
personal injury.
The  entire  seat  belt  assembly  should  be  inspected
periodically  for  corrosion,  wear,  fraying  or  weak  spots.    The
seat belt mounting bolts should be tight at all times.  Any seat
belt   severely   strained   in   an   accident   should   be   replaced
immediately.   All  belts  should  be  replaced  at  least  every  five
years.
SUN VISOR
To shade the operator's eyes from the direct rays of
the  sun,  the  visor  can  be  positioned  at  the  door  window  as
well as at the windshield.
5
\