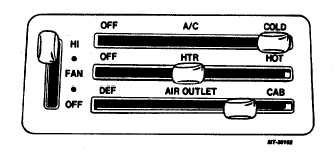 TM 5-4210-230-14&P-1
CONTROLS
IMPORTANT
Always park in the shade when possible.
If  your  vehicle  has  been  parked  in  the  sun
with  the  windows  up,  remove  overheated  air
inside  by  driving  with  windows  down  and  the
air conditioner "ON" for one or two city blocks.
At least once or twice a month turn on the air
conditioner for a few minutes while the engine
is  running.    This  periodic  operation  keeps  all
the mechanical parts of your air conditioner in
good operating condition.
Have   your   IH   air   conditioner   checked   each
spring for refrigerant, compressor oil level and
belt tension.  Keep radiator area free of bugs,
leaves, etc.
Do not cover the condenser in front of radiator
with  a  screen  wire.    Small  amounts  of  water
draining
out
moisture
which
has
been
removed from the air inside your vehicle.  Air
conditioning  sometimes  causes  engine  of  the
vehicle to run slightly warmer than usual.
STALE AIR AND SMOKE
To remove stale air or smoke while air conditioner is
operating, you may want to open a window vent slightly for a
short period of time.
SERVICE CHECK-UPS
Compressor
belt
tension
should
be
checked
periodically.  Keep radiator and condenser areas free of bugs,
leaves,  etc.    Do  not  cover  the  condenser  with  a  screen  wire.
Small amounts of water draining out of air conditioner's drain
tube is normal and represents condensed moisture which has
been removed from the air inside your vehicle.
AIR FILTER
When air conditioner is being used daily, remove air
filter once each season and check for dirt, lint, etc.  Replace if
necessary.    Vehicles  operating  in  unusually  dusty  conditions
may require replacing the air filter more often.
DEHUMIDIFICATION
The     heater-defroster     systems     can     be     operated
simultaneously  with  the  air  conditioner  during  mild  weather
and high humidity conditions for dehumidification of the moist
air.  To obtain maximum dehumidification, set the "A/C" lever
to "COLD", place the fan switch on "HI" and
move   the   "HTR"   lever   towards   "HOT"   until   a   comfortable
temperature  is  maintained.    The  air  conditioner  will  remove
the humidity while the heater keeps the cab comfortable.
HORN
In compliance with Noise Control Laws as stipulated
in certain localities, the operator must be aware of the proper
horn to use when within City Limits.  If this vehicle is equipped
with both an electric and air horn system, the electric horn will
be known as the "City" horn while the air horn will be known
as the "Country" horn.
WHEN TO USE
Electric Horn (City Horn)
The     electric     horn     (city     horn)     is     applicable     to
operations within the City Limits.
Air Horn (Country Horn)
The air horn (country horn) is restricted to operation
outside the City Limits.
HOOD
RAISING THE HOOD
1.
Release latch at each side of cowl.
2.
Pull on hood tilt assist handle at front of hood.
LOWERING THE HOOD
1.
Slowly lower hood to closed position.
2.
Engage latches at side of cowl.
IGNITION SWITCH
See Engine Starting under Vehicle Operation.
LIGHTING SWITCH
When  the  lighting  switch  is  pulled  out  halfway,  the
parking, side marker and taillights are
3