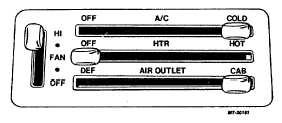 TM 5-4210-230-14&P-1
CONTROLS
CARBURETOR CHOKE
The   choke   is   used   to   enrich   the   fuel   mixture   by
restricting   the   air   flow   to   the   carburetor.   The   distance   the
choke  control  is  pulled  out  regulates  the  fuel-air  mixture  and
increases  the  engine  speed  to  a  fast  idle  to  prevent  stalling
during  the  engine  warm-up  period.    Push  the  choke  in  when
the engine is warmed up.
CARBURETOR THROTTLE
The throttle control may be used to open the throttle
slightly  when  starting  the  engine  or  to  set  the  throttle  at  any
position to maintain a constant engine speed.
CIGAR LIGHTER
The  cigar  lighter  is  located  on  the  instrument  panel.
Push   the   lighter   knob   in   all   the   way.      The   lighter   will
automatically return to the normal position when hot.
DOOR CONTROL AND LOCK
To lock the doors from inside the cab, push the door
lock control downward.  To unlock the doors, pull the control
upward.
To  lock  the  doors  from  the  outside,  doors  must  be
locked  with  a  key,  turn  the  key  clockwise  and  remove.    To
unlock, turn the key counterclockwise and remove.
To open door from outside, insert fingertips into door
control recess and pull handle outward.
To open door from inside, pull upward on handle.
Keep doors locked when vehicle is in motion.
DOOR GLASS WINDOW REGULATOR
To  lower  door  glass,  turn  window  regulator  handle
clockwise.  To raise glass, turn handle counterclockwise.
ENGINE STOP (Diesel Engine)
To stop engine pull out on control.
FRONT AXLE CONTROL (4x4)
The   front   axle   control   engages   or   disengages   the
front axle.
See
Vehicle
Operation
section
for
operating
instructions.
FUEL GAUGE SWITCH
(Vehicles Equipped with Auxiliary Fuel Tanks)
The fuel gauge switch should be positioned
to indicate the tank (left, right or forward rear) from which fuel
is  being  used.    The  fuel  gauge  will  only  indicate  the  level  of
the fuel in the tank being used.
FUEL PRIMER SWITCH (DIESEL ENGINE)
This    truck    is    equipped    with    an    electric    in-tank
mounted   fuel   pump.      In   addition,   an   electric   fuel   system
primer switch is located on the instrument panel.
HEADLIGHT BEAM SELECTOR
The  beam  selector  permits  the  driver  to  lower  the
headlight beam when approaching or passing vehicles, and to
raise  the  headlight  beam  for  open  highway  use  or  whenever
necessary.    A  light  located  in  the  instrument  cluster  glows
when  the  headlights  are  on  "upper"  beam.    See  gauges  and
instruments for location of indicator light.
HEATER-AIR CONDITIONER
IMPORTANT
The   air   conditioning   system   incorporates   a
low   pressure   switch   which   disengages   the
compressor   clutch   if   evaporator   outlet   falls
below   a   certain   level.      To   restart   the   air
conditioning  system  after  an  automatic  shut-
down has occurred, the operator must do one
of the following:
1.
Place  "A/C"  lever  in  "OFF"  position
and then back "ON".
2.
Place blower switch in "OFF" position
and then back "ON".
If
system
continues
to
shut
down
automatically, it will be necessary to have the
system checked for the cause of low pressure

.
1