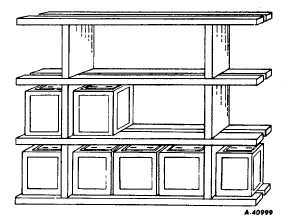 TRUCK SERVICE MANUAL
TM 5-4210-230-14&P-1
5.
Start engine and check operation of vehicle's charging
system.  If necessary, adjust or repair charging system
to obtain correct charging output.
6.
Install battery cover (where used).
STORAGE INSTRUCTIONS
Always  store  batteries  in  an  upright  position.    Never  allow
batteries  to  be  laid  on  their  sides  as  electrolyte  may  escape
through the vent holes.
Never  stack  batteries  on  top  of  one  another.    Simple  battery
storage racks can be made from loose, flat boards supported
by the batteries themselves, as shown in Figure 15.
Fig. 15  Battery Storage Rack
Batteries    will    slowly    discharge    while    standing    and    will
discharge  much  faster  when  warm  than  when  cold.    On  wet
type   conventional   batteries,   selfdischarge   can   amount   to
about  an  average  of  .001  specific  gravity  per  day  over  a  30
day  period.  To  minimize  self-discharge,  store  batteries  in  as
cool a place as possible, away from heat ducts in winter and
shielded from direct sunlight in summer.
Ideal  storage  conditions  would  be  in  a  clean  dry  area  where
temperature would be stable and as cool as possible between
0°C
(32°F)
and
26°C
(80°F).
Storage
in
ambient
temperatures above 26°C (80°F) is not recommended as this
increases the rate of self-discharge. Temperatures below 0°C
(32°F) should be avoided to prevent freezing should a battery
become discharged.
Wet batteries in storage should be checked for state of charge
every 30 days and charged when-
ever they fall to 1.225 specific gravity.  A charge rate of one
ampere  for  each  positive  plate  in  one  cell  should  be  used  to
recharge the battery.
IMPORTANT
Batteries  of  vehicles  standing  in  storage  should  be
considered   as   batteries   in   storage.      Vehicles   in
inventory   should   be   maintained   regularly   to   keep
their batteries clean and dry, properly filled with water
and, most important, fully charged.
Because   of   their   chemical   composition,   maintenance   free
batteries   self-discharge   at   a   slower   rate   than   conventional
batteries.  When stored as recommended, a shelf life of up to
twelve months or more depending upon storage temperatures,
is possible before charging is required.
Maintain   proper   battery   stock   rotation.      The   first   batteries
placed in storage should be the first ones taken out.  (Be sure
to check date codes on the batteries and the cartons.)
If  a  battery  has  been  in  storage  for  some  time,  it  should  be
charged before being installed in a vehicle.
ACTIVATING DRY CHARGED BATTERIES
Dry   charged   batteries   provided   for   replacement   installation
must  be  "activated"  before  they  can  be  used.    Following  the
instructions    outlined    below    will    assure    proper    activation
regardless of temperature and conditions of storage.
IMPORTANT
Always  refer  to  and  follow  manufacturer's  activation
instructions furnished with battery.
1.
Fill each cell of the battery to the top of the separators
with  the  correct  battery-grade  electrolyte  as  specified
by   the   manufacturer's   instructions.    

Using

  

higher

  

or
lower
specific
gravity
electrolyte
than
recommended
can
impair
battery
performance
.
Originally filling each
cell  to  the  top  of  the  separators  permits  expansion  of
the electrolyte as battery is boost charged.
2.
Gently rock battery.  This will help to force out trapped
air and to saturate the plates with electrolyte.
CTS-2771  Page 17
PRINTED IN UNITED STATES OF AMERICA