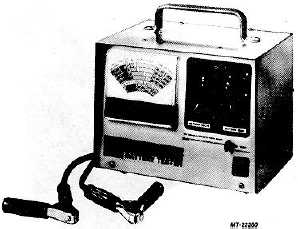 TRUCK SERVICE MANUAL
TM 5-4210-230-14&P-1
Fig.  12  Testing Specific Gravity
STEP 3.  BATTERY CAPACITY (LOAD) TEST
Perform    battery    capacity    (load)    test    using    battery    test
equipment available commercially.
IMPORTANT
Always     follow     manufacturer's     instructions     and
precautions when using battery test equipment.
A   satisfactory   capacity   (load)   test   can   be   made
only   when   battery   electrolyte   equals   or   exceeds
1.225  specific  gravity  when  corrected  to  26.7°   C
(80

°
F).
a.      Disconnect   battery   cables   from   battery.      (Disconnect
ground cable

first

.)
b.    Connect  tester  leads  to  battery  terminals  following  tester
manufacturer's instructions.
Fig.  13  Battery Tester
c.  Apply specified test load to battery for 15 seconds or as
specified in tester instructions.
Test   load   (amperes)   is   equal   to   one   half   of   the   cold
cranking amperes @ -18° C (0° F) rating of the battery.
Specified   test   loads   for   "Fleetrite"   and   "International"
batteries are listed in SPECIFICATIONS.
d.  Note voltage reading after 15 seconds (or other specified
time interval) under load.  Then remove load.
If   voltage   reading   under   load   is   less   than   permissible
minimums  at  temperatures  listed  in  Table  5,  replace  the
battery.
If  voltage  meets  or  exceeds  permissible  minimum  listed
in Table 5, clean the battery and return it to service.
CTS-2771-Page 12
PRINTED IN UNITED STATES OF AMERICA