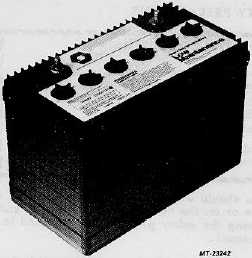 TRUCK SERVICE MANUAL
TM 5-4210-230-14&P-1
BATTERY CHARGING PRECAUTIONS
Do not attempt to charge a battery unless you are thoroughly
familiar  with  the  step  by  step  procedure  to  use.    Follow  the
manufacturer's instructions on the charger.  If the instructions
are no longer legible and you do not have literature containing
the  instructions,  obtain  them  from  the  manufacturer  of  the
charger.  

Never

use

a

charger

without

instructions

.
The   room   or   compartment   in   which   the   battery   is   being
charged   should   be   well   ventilated.   Follow   precautions   to
prevent  battery  explosion.    Explosive  mixtures  of  hydrogen
gas  are  being  generated  during  battery  charging.    This  gas
can  be  exploded  by  a  torch,  match  flame,  lighted  cigarette,
sparks from loose connections or metal tools making contact
between    the    terminals    or    the    ungrounded    terminal    and
adjacent metal parts which are grounded.
Always shield eyes when working around the battery
.
It is recommended that filler caps, where used, be left on the
battery  during  charging.    Additionally,  a  wet  cloth  should  be
placed over the battery and vent.
DO   NOT   ATTEMPT   TO   CHARGE   A   FROZEN   BATTERY.
Allow the battery to warm to 15.5°  C (60° F) before placing on
charge.
Always
turn
the
charger
to
the
"OFF"
position
before
connecting
the
leads
to
the
battery
.    If  you  have  any  doubts
that   the   charger   is   actually   "OFF",   disconnect   it   from   the
power source.
Never  break  a  "live"  circuit  at  the  battery  terminals  or  touch
the charger leads when the charger is "ON".  This could create
a spark which could ignite the explosive gases in the battery.
Always
turn
the
charger
"OFF"
before
removing
a
charger
lead
from
the
battery
.
EMERGENCY STARTING PRECAUTIONS
Each   step   in   the   procedure   outlined   under   EMERGENCY
(JUMPER) STARTING must be followed with extreme care to
avoid (1) bodily injury due to a gush of electrolyte through the
vents,   (2)   bodily   injury   of   damage   to   the   vehicles   due   to
explosion   of   one   of   the   batteries,   or   (3)   damage   to   the
electrical system of either or both vehicles.
Wear
safety
glasses
.  Never lean over the battery during the
starting operation.  Follow precaution to avoid making a spark
or bringing a flame near the battery.
Fig.  1  Low Maintenance (Conventional) Battery
DESCRIPTION
The  storage  battery  is  an  electro-chemical  device.    It  stores
chemical  energy  which  can  be  released  as  electrical  energy.
When the battery is connected to an external load such as a
starter, the chemical energy is converted into electrical energy
and current flows through the circuit.
The three main functions of the automotive battery are to:
1.    Supply  power  to  the  starter  and  ignition  system  so  the
engine can be cranked and started.
2.      Supply   the   extra   power   required   when   the   vehicle's
electrical  load  requirements  exceed  the  supply  from  the
charging system.
3.    Act  as  a  voltage  stabilizer  in  the  electrical  system.    The
battery     smoothes     out     or     reduces     temporarily     high
voltages  (transient  voltages)  which  occur  in  the  vehicle
electrical system.  This could occur in making or breaking
a   circuit,   etc.      These   excessively   high   voltages   would
damage  other  components  in  the  electrical  system  if  it
were not for the protection provided by the battery.  The
battery  partially  absorbs  and  greatly  reduces  these  peak
voltages  and  protects  components  such  as  diodes  from
being damaged.
"Fleetrite"     and     "International"     batteries     are     available     in
conventional
(low
maintenance)
type
(Figure
1)
and
maintenance    free    type    (Figure    2)    as    described    herein.
CTS-2771  Page 4
PRINTED IN UNITED STATES OF AMERICA