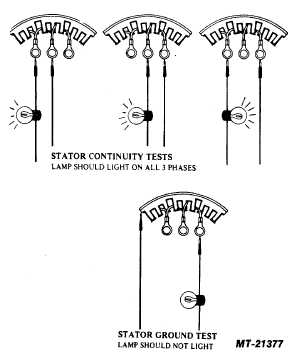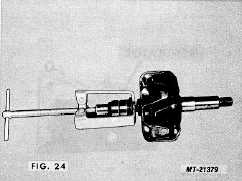 TRUCK SERVICE MANUAL
TM 5-4210-230-14&P-1
ELECTRICAL
significantly from these figures.  Before condemning
a rotor for an open coil, check the solder joints at the
slip   ring   leads,   as   a   poor   connection   at   either   of
these leads will test the same as an open coil.  If the
proper   resistance   is   not   obtained   after   resoldering
these connections, discard the rotor.
STATOR TEST
Due   to   the   extremely   low   resistance   of   the   stator
windings   it   is   difficult   to   measure   their   resistance   with   a
conventional ohmmeter.  The stator should therefore be tested
for grounds and continuity between phases with a test light.  A
12 volt test light is preferred.
Do not attempt to check stators in this manner while
they are still connected to the heat sinks.  Remove the stator
from the alternator before testing (see Fig.  22 for stator test).
Discard    any    stators    which    appear    overheated    and    have
charred insulation, regardless of how they test.
Several  stators  are  available  which  can  be  used  as
service replacements on these alternators.  The part numbers
of these stators will be listed in the appropriate parts list.
SLIP RING REPLACEMENT
The slip ring assembly used in these alternators is of
extremely     sturdy     construction     and     will     seldom     require
replacement.    If  it  should  become  damaged  in  some  way,
such as dropping the rotor, it may be replaced in the following
manner.
1.    Unsolder  the  slip  ring  leads  and  lift  them  clear  of  the
eyelets which serve to retain them to the rotor coil leads.
Do not lose or damage the eyelets (see Fig.  23).
2.  With a suitable puller, the slip ring assembly may now be
pulled from the shaft (see Fig. 24).
3.  Clean the rotor shaft and apply a small amount of Loctite
to  the  shaft  on  the  section  normally  occupied  by  the  slip
ring assembly.
4.  Position the new slip ring assembly on the shaft so that the
two leads are aligned with the two rotor coil eyelets on the
rotor,  and  carefully  press  the  slip  ring  assembly  onto  the
shaft.
FIG.  22
CTS-2743T  Page 10