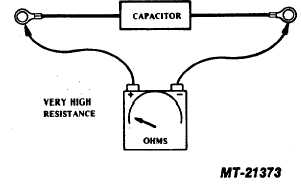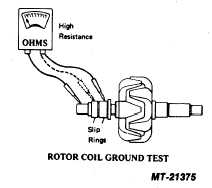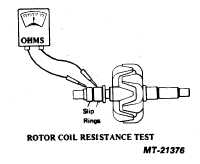 TRUCK SERVICE MANUAL
TM 5-4210-230-14&P-1
ELECTRICAL
Its value is .5 MFD, and 200 working volts D.C.
In the absence of a capacitor tester, the unit may be checked
for  shorts  by  means  of  an  ohmmeter  connected  across  the
terminals.    A  low  resistance  reading  indicates  a  shorted  or
leaking capacitor which should be replaced (see Fig. 18).
VOLTAGE REGULATOR TEST
The  regulator  circuitry  contains  devices  connected  in  such  a
manner    that    parallel    or    "sneak"    circuits    exist    making    it
impossible  to  electrically  test  each  individual  component,  as
several will be in the circuit at the same time.  For this reason,
point  to  point  resistance  checks  with  an  ohmmeter  may  be
inconclusive   or   misleading.      The   regulator   can   be   most
accurately tested by installing it in an alternator known to be
serviceable.
The   voltage   regulator   assembly   consists   of   a   number   of
individual  components  such  as  capacitors,  resistors,  diodes
and transistors, mounted upon and electrically connected by a
printed    circuit    panel.        Because    these    components    are
permanently  fastened  to  the  panel,  their  replacement  is  not
recommended.  When it has been
determined that a voltage regulator is unserviceable, it should
be  discarded  and  a  new  assembly  installed  in  its  place  (see
Fig.  19).
ROTOR TEST
The   rotor   should   be   checked   for   grounds   and   proper   coil
resistance with an ohmmeter.
1.  With the ohmmeter connected between the rotor shaft and
either slip ring, no reading (infinity) should be obtained.  If an
ohmmeter reading other than infinity is obtained, the rotor coil
is grounded and the rotor must be replaced (see Fig.  20).
2.    Check  rotor  coil  resistance  by  connecting  the  ohmmeter
across the two slip rings (see Fig.  21).  The resistance of the
rotor should be within the following limits:
2310JB
4.9-5.5 Ohms
2510JB
2.3-2.7 Ohms
2610JB
2.3-2.7 Ohms
2810JB
1.9-2.3 Ohms
Discard
rotors
whose
resistance
values
differ
PRINTED IN UNITED STATES OF AMERICA
FIG.  18
FIG.  20
FIG.  21
CTS-2743T  Page 9