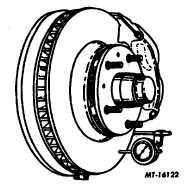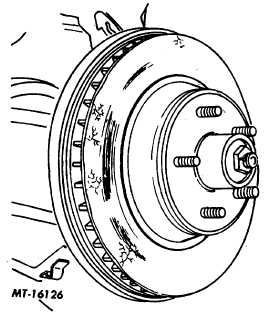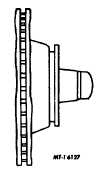 TRUCK SERVICE MANUAL
TM 5-4210-230-14&P-1
BRAKES-HYDRAULIC
and drum surface.  Grind new lining approximately 1.78 mm
(.070 in.) less than the inside diameter of brake drum.  Make
certain that the

brake

is

fully

released

before

grinding

.
DISC BRAKES
INSPECTION OF ROTORS
Inspect   rotors   for   lateral   runout,   parallelism,   (Fig.
14), cracks or burnt marks.
The disc brakes may have a slight amount of runout
or wobble due to tolerances which are required in machining
the large flat surfaces of the rotor.
Fig.  14   Rotor Lateral Runout
Lateral runout is the movement of the rotor from side to side
as   it   rotates.      Excessive   runout   causes   the   rotor   faces   to
knock back the disc pads and can result in chatter, excessive
pedal  travel,  pumping  or  fighting  pedal  and  vibration  during
the  braking  action.    This  condition  can  be  due  to  a  warped
rotor,    loose    wheel    bearing    and,    especially    if    symptoms
develop  immediately  after  sharp  turns,  deflection  in  steering
or suspension.
Runout is measured by a dial indicator SE1848 (Fig.  15) set
against the rotor surface approximately 25.4 mm (1 in.) from
outer  edge  of  rotor.    Runout  should  not  exceed  .105  mm  (.
004  in.)  Excessive  runout  will  kick  back  the  shoes,  cause  an
increase in pedal travel needed to apply the brakes, and pedal
vibration will be felt during applications.  It also contributes to
"grab", "pull" and noise problems.
Do  not  overlook  wheel  bearing  adjustment.  Wheel  bearings
which are loose can cause excessive runout indication.
If  rotor  runout  exceeds  .105  mm  (.004  in.)  either  refacing  or
new rotor assembly will be required.
Fig.   15 Dial Indicator Installation
Fig.  16  Rotor Not Satisfactory for Service
Rotors
should
be
inspected
for
parallelism.
Parallelism  refers  to  the  amount  of  variation  in  thickness'  of
the rotor (Fig.  17).
Fig.    17  Rotor Parallelism or Variation In Thickness
CTS-2779  Page 7
PRINTED IN UNITED STATES OF AMERICA