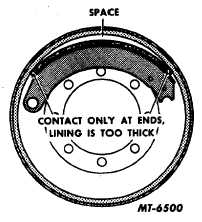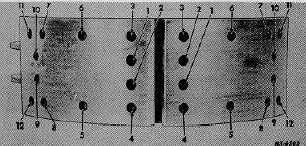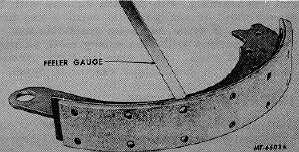 TRUCK SERVICE MANUAL
TM 5-4210-230-14&P-1
BRAKES-HYDRAULIC
If   it   is   not   known   how   much   material   has   been
removed   from   the   drum   during   the   turning   operation,   the
following  simple  test  may  be  used  to  help  select  the  proper
lining.
Hold standard size lining snugly to the shoe, position
it against the inner surface of the drum, forcing it into contact
with the drum surface. The lining is now in the same position
as during a brake application.  If space is noted at the ends of
the shoe (shoe can be rocked), oversize lining is required (Fig.
9).    If  lining  selected  is  too  thick,  only  the  ends  of  the  lining
will contact the drum, see Fig.  10.
Fig.    10     Lining Selected Too Thick
The lining must be installed on the shoe so that it fits
smoothly   and   evenly,   contacting   the   shoe   throughout   the
entire  radius.    If  gaps  occur  between  the  rivets,  difficulty  will
be  met  in  adjusting  the  brakes  in  that  "spongy"  or  rubbery
pedal  may  occur  which  makes  satisfactory  brake  application
impossible.
To insure complete contact and avoid gaps between
lining and shoe, secure lining to shoe with "C" clamp so that
rivet  or  bolt  holes  are  in  alignment.    Position  "C"  clamp  as
close  to  the  holes  as  possible,  clamping  the  lining  firmly  in
place.
Fig.    11 Sequence in Securing Brake Lining to Shoe
When  securing  brake  lining  to  shoes,  start  with  the
center rivet or bolt and work toward the ends as shown in Fig.
11.      When   securing   brake   block   lining   to   shoe,   use   the
sequence as shown in Fig. 12.  Always use new lock washers
when  installing  bolt  on  lining  and  tighten  nuts  to  89-111  Nm
(20-25 ft.  lbs.) torque.
Fig.    12 Sequence in Securing Brake Block Lining to Shoe
When   riveting   linings,   use   a   roll   set   to   upset   the
rivets.  A star set may split the tubular end of rivet and prevent
a tight fit.
After  the  lining  is  installed,  check  tightness  of  lining
to  shoe,  (Fig.  13)  with  a  .203  mm  (.008  in.)  feeler  gauge  at
any point along the arc of shoe and lining.
Fig.  13  Checking Tightness of Lining
After installing the new lining on the shoes, the lining
should be ground in a true radius to fit the drum diameter.  A
brake   shoe   grinder   is   provided   on   brake   reliner   (SE-1272)
which  is  designed  to  dress  the  lining  in  a  true  radius  and  fit
the  drum  diameter.    This  grinder  swings  the  shoe  in  an  arc
across the surface of an abrasive wheel.
A  brake  shoe  grinder  which  mounts  on  the  spindle
may   be   used   after   installing   shoes   with   new   lining.      The
grinder   rotates   about   on   its   axis   and   the   grinding   head
equalizes   the   distance   between   the   two   brake   shoe   lining
surfaces
CTS-2779  Page 6
PRINTED IN UNITED STATES OF AMERICA