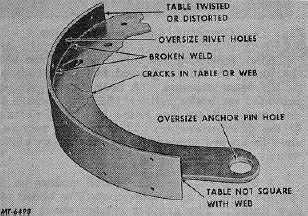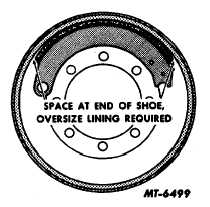 TRUCK SERVICE MANUAL
TM 5-4210-230-14&P-1
BRAKES-HYDRAULIC
To recondition a brake drum in a lathe (Fig.  7), the
drum must be mounted so that it is centered.  Use proper size
cone  to  provide  accurate  centering.    Turn  drum,  taking  only
light cuts and remove just enough material to clean up drum.
Then  grind  the  finished  surface  if  grinder  is  available  or  use
emery cloth on a straight piece of wood and polish the drum
friction surface.
Fig.    7 Reconditioning Drum on Brake Drum Lathe
Brake  drums  should  be  cleaned  thoroughly  with  a
steam  cleaner  or  hot  water.    Do  not  use  a  solvent  which
leaves an oily residue.  If inspection shows the drums may be
used without remachining, rub friction surface with fine emery
cloth  or  sandpaper  to  remove  any  foreign  deposits.    If  drum
has been reconditioned, clean friction surface with fine emery
cloth or sandpaper and wash.  Next examine very carefully to
see that no metal chips remain in drum.
INSPECTION OF SHOES
Figure  8  Defects to be looked for on Brake Shoe
When  brake  linings  or  blocks  are  worn  to  within  .8
mm   (1/32")   on   light   duty   vehicles   or   1.6   mm   (1/16")   on
medium and heavy duty trucks of rivets, the brake shoes must
be   removed   and   relined.      It   is   recommended   that   all   the
brakes  be  relined  at  the  same  time  since  this  will  maintain
balanced  braking  on  the  vehicle.    If  complete  replacement  is
not desirable or necessary, be sure that all lining on one axle
(both sides) is replaced at the same time.
Examine   shoes   carefully   and   discard   those   which
have any defects as shown in Fig.  8.
REPLACING LINING ON SHOES
When removing worn lining from shoes, drill out old
rivets if possible to prevent distorting shoe table.  After the old
linings  are  removed  from  the  shoes,  the  shoes  should  be
cleaned and buffed to remove all dirt and grease.  Grease is
one of the greatest deteriorating agents of lining.
Discard   used   lock   washers   after   removing   lining
bolts.  Use new washers when installing new lining.  Replace
bolts and nuts if signs of distortion or wear are present.
Do not handle new brake linings or relined shoes with
greasy hands or allow linings to come in contact with mineral
oil or grease.
Care    should    be    used    in    selecting    the    correct
thickness of lining for each brake shoe and drum.  Usually the
standard thickness will be used.  If the drum has been turned
or become worn, increasing the diameter, oversize lining may
be required.
Fig    9    Lining Selected too thin
CTS-2779  Page 5
PRINTED IN UNITED STATES OF AMERICA