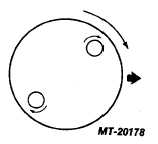 TRUCK SERVICE MANUAL
TM 5-4210-230-14&P-1
on  floor  jacks.    Brake  drag  is  checked  by  "feel",  rotating  the
drum   in   the   direction   of   forward   rotation   as   adjustment   is
made.
Be sure the wheel bearings are properly adjusted (refer to
WHEELS,  RIMS,  TIRES  Section,  CTS-2032)  and  with  brake
drums cool.
Adjust  each  shoe  in  turn  by  rotating  adjuster  cam  stud
and  drum  in  forward  direction  of  drum  rotation  until  a  light
drag is noticeable (Fig.  4).  Do not apply excessive force on
stud  -13.6  N

·

m  (120  in.    lbs.)  maximum.    Back  off  adjuster
stud  slightly  (approximately  6  to  12  degrees).    Drum  should
turn freely.
Repeat procedure on opposite cam stud.
Perform same operation on brake group on opposite side
of vehicle.
BRAKE SHOE REMOVAL
Refer to Fig.  1 for numbers in parenthesis.
1.
Position  vehicle  on  floor  stands  so  that  the  wheels
are free to turn.
2.
Remove wheel hub and drum assemblies.
3.
Secure    pistons    in    wheel    cylinders    with    cylinder
clamps.
4.
Remove brake shoe retracting springs.
5.
Remove  each  shoe  hold-down  "C"  washer  (12)  and
washer (11).
6.
Pull  shoes  free  from  adjuster  cams  and  then  rotate
shoe    from    brake    group    freeing    ends    of    wheel
cylinders.
If wheel cylinder connector tubes (21) are removed, mark
wheel cylinder ports to which tubes are attached to avoid error
in   re-assembly.      Difficulty   will   be   encountered   in   bleeding
operation if tubes are assembled in wrong location.
Fig.  4  Brake Adjustment
CLEANING AND INSPECTION
Thoroughly clean all parts (except drums) free of dirt and
grease with cleaning solvent and wipe dry.
Because    studies    have    indicated    that    exposure    ,    to
excessive amounts of asbestos dust may be a potential health
hazard,  OSHA  has  set  maximum  limits  of  levels  of  airborne
asbestos dust to which workers may be exposed.  Since most
automotive    friction    materials    normally    contain    a    sizable
amount  of  asbestos,  it  is  important  that  people  who  handle
brake    linings    be    aware    of    the    problem    and    know    the
precautions to be taken.
OSHA   standards   should   be   consulted   with   respect   to
mandatory requirements as well as for suggested procedures
to minimize exposure.
DRUMS, BRAKE SHOES AND LINING
For  complete  details  pertaining  to  reconditioning  drums
and shoes, refer to CTS-2779.
WHEEL CYLINDERS
Inspect   wheel   cylinders   for   signs   of   fluid   leakage   or
deteriorated rubber dust boots.  If brake fluid is leaking out of
wheel cylinders, replace or recondition wheel cylinders.
Some brake groups have wheel cylinder piston stops and
the wheel cylinder must be removed for reconditioning.
The   two   wheel   cylinders   mounted   on   one   brake   are
identical;   HOWEVER,   CYLINDERS   FOR   LEFT   OR   RIGHT
HAND BRAKES HAVE OPPOSITE CASTINGS.
Clean   mating   surfaces   of   cylinders   and   backing   plate
before assembly to insure proper alignment.
RETRACTING SPRINGS
Inspect   retracting   spring   for   distortion   such   as   nicks,
twisted shanks or spread of coils.  Damaged spring must be
replaced.
ADJUSTING CAM AND SHOE GUIDE STUDS
Adjustment cam and shoe guide studs are equipped with
friction  springs.    They  should  easily  turn  with  a  wrench,  but
should  not  be  loose.    If  frozen,  lubricate  with  penetrating  oil
and work free.
CTS-2078T - Page 4
PRINTED IN UNITED STATES OF AMERICA