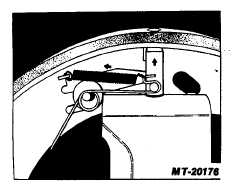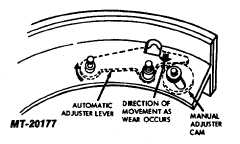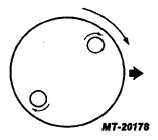 TRUCK SERVICE MANUAL
TM 5-4210-230-14&P-1
Fig.  7
When  installing  shoe  on  hold-down,  free  end
of  adjuster  lever  should  bear  against  manual
adjuster cam which should be fully backed off
to position shown in Fig.  8.
Fig.  8
9.
Install flat washers and hold-down "C" washers.
10.
Install brake shoe return springs.
11.
Remove wheel cylinder clamps.
12.
Back off manual adjustment cams.
13.
Center  each  shoe  before  installing  drum  by  sliding
shoe  up  or  down  in  its  anchor  slot  until  the  leading
and trailing edges of linings are equal distances from
the  rolled  edge  of  brake  backing  plate.  14.    Repack
wheel bearings (refer to LUBRICATION, CTS-2412).
15.
Reinstall  wheel  bearings,  new  seals  and  install  hub
and  drum  assembly.    Adjust  wheel  bearings.    Refer
to  WHEELS,  RIMS  and  TIRES  Section  (CTS-2032)
for     proper     instructions     pertaining     to     repacking
bearings and bearing adjustment.
16.
Adjust    brakes    by    performing    the    initial    manual
adjustment,
referring
to
LINING
CLEARANCE
ADJUSTMENT procedure.
17.
If wheel cylinders were rebuilt or replaced the brakes
will
require
bleeding.
Refer
to
BRAKES
HYDRAULIC,  General  (CTS-2055  for  single  system
or CTS-2470 for split system).
18.
Remove floor stands from under vehicle.
LINING CLEARANCE ADJUSTMENT
Adjust
Each
Shoe,
in
Turn:
With  drum  installed,  rotate
adjuster   cam   stud   and   drum   in  

forward

  direction   of   drum
rotation until a light drag is noticeable (Fig.  9).  Do not apply
excessive  force  on  the  stud  -13.6  N

·

m  (120  inch  pounds)
maximum.  Back off adjuster stud (6 to 12 degrees) until drum
turns  freely.    After  the  manual  adjustment  is  performed,  the
automatic  adjusters  will  now  maintain  normal  facing-to-drum
clearance.
Fig.  9
CTS-2491T  Page 5
PRINTED IN UNITED STATES OF AMERICA