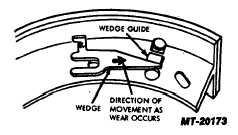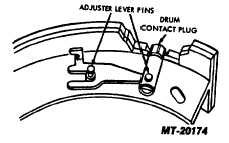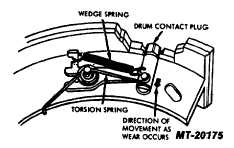 TRUCK SERVICE MANUAL
TM 5-4210-230-14&P-1
IMPORTANT
Contact   plug   must   be   replaced   when   new
lining    is    installed.        Do    not    use    oversize
thickness    lining,    even    though    drums    are
rebored.
Do
not
lubricate
adjuster
mechanism.
If  new  lining  has  no  contact  plug  hole,  cut  a  19.05  mm
(3/4") hole and deburr the edges. Locate this hole by making a
proper template of the shoe table.
WHEEL CYLINDERS
Inspect   wheel   cylinders   for   signs   of   fluid   leakage   or
deteriorated rubber dust boots.  If brake fluid is leaking out of
wheel cylinders, replace or recondition wheel cylinders.
Some brake groups have wheel cylinder piston stops and
the wheel cylinder must be removed for reconditioning.
RETRACTING
SPRINGS
AND
SELF-ADJUSTING
MECHANISM COMPONENTS
Inspect   retracting   spring   for   distortion   such   as   nicks,
twisted  shanks  or  spread  of  coils.  Damaged  spring  must  be
replaced.
Inspect
self-adjusting
mechanism
components
for
damage    or    wear,    any    piece    of    which    the    condition    is
considered questionable must be replaced.
REINSTALL BRAKE SHOES
1.
Position wedge guide in shoe web hole on side away
from brake backing plate, with serrations facing away
from shoe table.  Lay wedge with serrations matched
against guide and slot aligned over the lever pivot pin
hole shoe web (Fig.  4).
Fig.  4
2.
Insert  contact  plug  into  the  web  recess  and  guide  it
into  the  shoe  table  with  plug  shank  over  the  wedge
guide and wedge.  Insert adjuster lever pins through
shoe from the
opposite side and mate the actuating (center) pin with the plug
shank hole (Fig.  5).
3.
Assemble wedge washer over shoulder of pivot pin.
4.
Slide  U-hook  of  tension  spring  on  pin  over  contact
plug shank.
Fig.  5
5.
Hook one end of wedge (coil) spring on the U-hook,
then  install  coil  of  torsion  spring  over  the  pivot  pin
and  pull  free  spring  hook  over  the  edge  of  the  shoe
web.    Hook  free  end  of  wedge  spring  over  finger  on
wedge (Fig.  6).
Fig.  6
6.
Press  lightly  upon  contact  plug  to  allow  wedge  to
move  and  fully  retract  the  wedge  against  the  lever
pivot  pin.    In  this  position,  the  plug  should  be  even
with  lining  surface  +  0.00  to-0.512  mm  (+  0.00  to-
0.006  inch  If  plug  is  high,  clamp  shoe  in  a  vise  so
that  the  jaws  of  the  vice  bear  against  the  adjuster
lever  (Fig.    7)  and  dress  down  the  plug  with  a  file.
Take care not to create a flat spot on the lining.  An
alternate method is to dress the plug when the shoes
are  ground  to  a  true  radius;  however,  lever  must  be
blocked in its extended position.
7.
Make  sure  that  brake  backing  plate,  wheel  cylinder
anchor    bolts    and    cylinder    mounting    screws    are
tightened securely.
8.
Install shoes on hold-downs, locating each retracting
spring so that its long shank is hooked at the anchor
end of the shoe.
CTS-2491T  Page 4
PRINTED IN UNITED STATES OF AMERICA