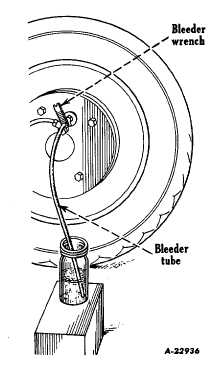 TRUCK SERVICE MANUAL
TM 5-4210-230-14&P-1
Apply  steady  pressure  to  the  brake  pedal  and  open
the bleeder valve.  When fluid coming from submerged end of
hose  is  free  of  air  bubbles,  close  bleeder  valve  and  release
brake  pedal.  If  pedal  goes  to  the  toe  board  while  bleeding  a
wheel   cylinder   without   removing   all   air   bubbles,   close   the
bleeder   valve   and   release   pedal   slowly.   Repeat   bleeding
operation at this same wheel cylinder until clean fluid, free of
air bubbles, flows from the submerged end of the drain hose.
Repeat same procedure at each wheel cylinder until all air is
expelled  from  system.    Check  level  of  brake  fluid  in  master
cylinder  frequently  during  the  bleeding  operations  and  keep
master cylinder reservoir at least half full.
Refill  reservoir  to  correct  level  with  new  brake  fluid
and install reservoir cover.
Fluid withdrawn in the bleeding operation or fluid
whose cleanliness is questionable should never be used.
Fluid should be replenished in the supply reservoir after each
cylinder is bled. Should the supply reservoir be drained during
the bleeding operation, air will enter the system and
rebleeding will then be necessary.
Fig.  2
CTS-2055S  Chapter III Page 5
PRINTED IN UNITED STATES OF AMERICA