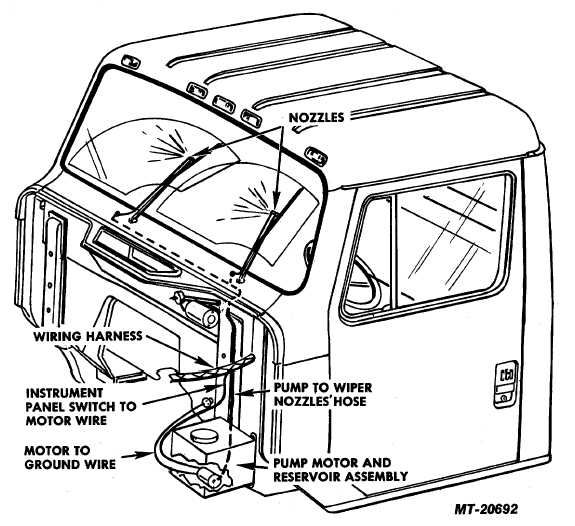 TRUCK SERVICE MANUAL
TM 5-4210-230-14&P-1
BODIES AND CABS
CHAPTER III WINDSHIELD WASHER
Fig. 1  Windshield Washer Installation (80" Wide Cab Shown)
DESCRIPTION
The  windshield  washer  (Fig.  1)  consists  of  a  reservoir
mounted  motor  driven  displacement  type  pump  that  delivers
washer solution to the windshield through hoses and nozzles
in  the  wiper  arms.    Since  the  pump  motor  is  integral  with
reservoir, only the complete assembly is available for service.
OPERATION
Two   types   of   controls   are   used   with   the   windshield
washer  namely-an  integral  with  wiper  control  switch  type  for
electric wipers and an independent control type for air wipers.
(Independent  switch  is  mounted  on  instrument  panel  directly
below    wiper    control    valve.)    You    can    operate    windshield
washer with either type control simply by pushing in on control
switch  for  as  long  as  you  want  nozzles  to  spray.    Spray  will
stop as soon as control is released. MAINTENANCE
A  minimum  of  service  is  required  to  keep  windshield
washer operating.  Keep reservoir filled with IH No.  996726-
R2  windshield  washer  solvent  and  keep  wiper  nozzles  clean.
If  dirt  enters  reservoir,  remove  reservoir  and  flush  out  with
clean   water.      Refill   reservoir   with   specified   solvent   after
reinstalling.
CTS-2732  Page 1
PRINTED IN UNITED STATES OF AMERICA