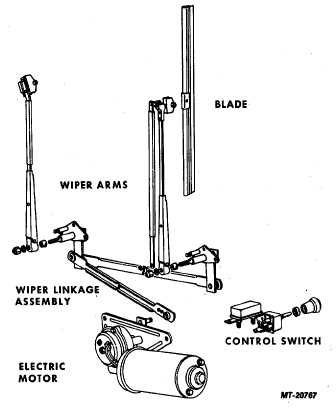 TRUCK SERVICE MANUAL
TM 5-4210-230-14&P-1
BODIES AND CABS
CHAPTER II WINDSHIELD WIPER (AIR)
Fig. 1 Air Windshield Wiper Components
DESCRIPTION
Where  air  brake  equipment  is  specified  for  S-Series
Trucks,   an   air   operated   windshield   wiper   is   also   available
optionally.    This  air  wiper  system  (Fig.  1)  consists  of  an  air
operated  wiper  motor,  an  instrument  panel  mounted  control
valve  and  the  same  wiper  linkage  as  used  for  the  standard
windshield wiper system.
OPERATION
The    air    wipers    operate    in    a    similar    manner    to
conventional wipers so long as air pressure is supplied to the
air wiper system.  However, to start wipers, control knob must
be pulled out. Wiper speed is then controlled by turning knob
clockwise  or  counterclockwise.    Push  knob  in  to  stop  wiper
motor.      Reciprocating   action   of   wiper   arms   results   from
reciprocating action of drive lever on air wiper motor.
REMOVAL
Linkage
Air  wiper  linkage  removal  procedure  is  the  same  as
required for the standard electric wiper as covered in Chapter
I.
Air
Motor
1.
Disconnect air lines from fittings on air motor.
2.
If wiper linkage has not previously been disconnected
from    air    motor,    reach    into    cowl    fresh    air    intake
chamber and unfasten clip from air motor drive lever.
3.
Remove   wiper   motor   bracket   mounting   screws   and
detach air motor assembly from cowl.
Control
Valve
1.
Remove  control  valve  knob  from  valve  on  instrument
panel.  A small hex key wrench can be used to loosen
knob set screws.
2.
Remove mounting screws and detach panel to right of
control valve.
3.
Remove   mounting   nut   from   valve   shaft   and   detach
wiper control valve from instrument panel.
4.
Disconnect   air   hose   from   control   valve   and   remove
control valve unit.
INSTALLATION
Air wiper components are installed in the reverse order
of   disassembly   procedure.      When   returning   wiper   arms   to
serrated  ends  of  drive  shafts,  the  following  steps  should  be
observed    to    assure    correct    wiper    blade    positioning    on
windshield.
1.
With vehicle air pressure at 620 kPa (90 psi) note that
wiper motor moves wiper blade to "Park" position when
control knob is pushed in.  Wiper blades should be 25
mm (approx. 1 inch) up from bottom of windshield.
2.
If  adjustment  is  necessary,  remove  wiper  serrated  nut
from wiper arm and reposition arm and nut to specified
wiper   position.   Adjust   each   wiper   arm   individually.
Moving     arm     or     nut     one     serration     is     equal     to
approximately five (5) degrees blade travel.
CTS-2732  Page 1
PRINTED IN UNITED STATES OF AMERICA