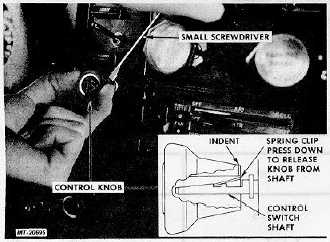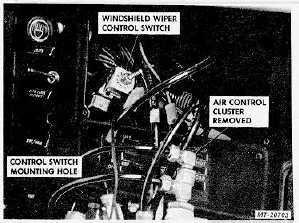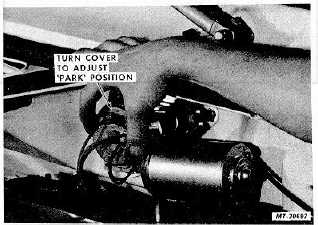 TRUCK SERVICE MANUAL
TM 5-4210-230-14&P-1
BODIES AND CABS
IMPORTANT
Always    disconnect    battery    ground    strap    before
servicing or removing electrical components.
Control
Switch
1.
Remove   control   knob   for   electric   control   switch   by
depressing retaining clip on back of knob with offset or
small screwdriver (Fig. 6).
Fig. 6  Removing Control Knob from Switch
2.
Remove mounting screws and detach panel to right of
wiper control switch and above heater controls.
Fig. 7  Removing Wiper Switch from Instrument Panel
3.    Remove  mounting  nut  from  switch  shaft  and  demount
switch assembly from instrument panel (Fig. 7).
4.
Disconnect wiring leads and remove switch.
INSTALLATION
Reinstalling of windshield wiper system components is
the reverse of removal.  Be careful when installing cowl cover
panel  so  as  to  protect  windshield  seal  from  damage.    When
returning wiper arms to drive shafts, control switch should be
in  "off"  position  and  blades  should  be  positioned  in  "park"
position on windshield (50 mm or 2 inches up from bottom of
windshield).        If    blades    do    not    park    as    specified,    see
"ADJUSTMENT".      When   blades   are   correctly   positioned,
install cap nut and tighten to 6-7 N

·

m (55-60 in .lbs.  ).
MAINTENANCE
Service on the windshield wiper system is limited to the
replacement of components shown in Fig. 1.  Disassembly of
either  the  electric  wiper  motor  or  the  control  switch  is  not
recommended.
ADJUSTMENT
1.  Operate wiper motor and turn control switch on instrument
panel   to   "OFF".      Wiper   blades   should   automatically
move   to   "park"   position   on   windshield   (50   mm   or
approx.  2 inches up from bottom of windshield).
Fig. 8  Adjusting Wiper Blade Park Position
2.    If  adjustment  is  required,  loosen  motor  cover  mounting
screws  and  turn  cover  clockwise  or  counterclockwise
as   required   to   set   correct   "park"   position   (Fig.   8).
Retighten cover screws.  (Length of stroke is fixed and
cannot be changed.)
CTS-2732  Page 3
PRINTED IN UNITED STATES OF AMERICA