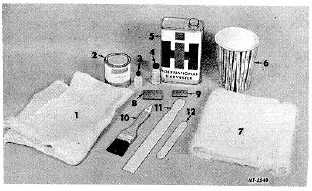 TRUCK SERVICE MANUAL
TM 5-4210-230-14&P-1
BODIES AND CABS
GENERAL
The   information   contained   in   this   manual   section   has
been   prepared   to   provide   service   personnel   with   a   ready
reference    to    step-by-step    procedures    for    the    repair    or
replacement of fiberglass components.
Instructions  for  making  fiberglass  repairs  to  sheet  metal
are also covered in this section.
A fiberglass reinforced plastic repair kit (Fig. 1) has been
made  available  which  contains  the  material  needed  to  repair
either fiberglass or sheet metal components.  This kit may be
obtained through regular Service Part channels.
The  mixing  directions  for  the  resin  mixture  and  plastic
putty are found on the cans.
CAUTION
Do not put mixed material back into cans.
Fig. 1.  Fiberglass Repair Kit.
Legend for Fig. 1
Key
Description
1
CLOTH
2
PLASTIC FILLER
3
PLASTIC ACTIVATOR
4
RESIN ACTIVATOR
5
RESIN
6
MIXING CUP (3)
7
MAT
8
SQUEEGEE (1-1/2" x 2")
9
SQUEEGEE (1-1/2" x 1")
10
PAINT BRUSH
11
STIRRING STICK
12
STIRRING STICK
DESCRIPTION
Fiberglass  is  manufactured  from  filaments  of  pure  glass
spun  into  yarn  then  either  woven  into  a  fabric  (cloth)  or  a
loosely bound mat.  The cloth or mat is then saturated with a
resin.    When  the  resin  cures  (hardens)  it  acts  as  a  binder  to
hold the fiberglass together, thus forming a solid panel.
Fiberglass  components,  such  as  the  hood  with  fenders
assembly,  are  formed  from  laminated  sheets  of  fiberglass
mats  held  together  with  a  synthetic  resin.    When  the  liquid
resin mix cures (hardens) it binds the filaments of glass in the
fiberglass mat creates a solid panel.  The glass fiber provides
the strength in the panel while the resin bonds the glass fibers
together   and   supplies   only   a   limited   additional   amount   of
strength.  Therefore when repairing a section, be sure to cover
more than just the hole where the damaged material has been
removed.      Always   overlap   the   undamaged   portion   with
fiberglass   patches,   so   that   a   more   continuous   sheet   of
reinforced fiberglass results.
Since the material hardens by a chemical action, a hard
surface  indicates  a  hard  interior,  ready  for  finishing.    The
mixture becomes hot before reaching setting temperature and
then  it  begins  to  harden.    It  reaches  full  hardness  after  48
hours.  It can however be sanded and finished before then.
To hasten the curing action or if the working temperature
is below 60° F, hold a heat lamp approximately 18" from work.
NOTE
250°   F  to  275°   F   is   the   high   limit   for   the
material  and  to  go  higher  might  distort  the
fiberglass  form  you  are  patching.  Therefore,
keep  a  close  control  over  the  external  heat
supply.      Cooler   temperature   increases   the
working time and hardening time.
The    paint    refinishing    method    is    the    same    as    that
recommended   for   metal   parts   with   the   exception   that   the
temperature must be kept below 250° F, which means the air
dry  process  is  the  most  practical  method.  Either  enamels  or
lacquers may be used to paint the fiberglass.
TOOLS AND EQUIPMENT NEEDED
Tools   and   equipment   necessary   to   make   repairs   on
fiberglass are as follows:
IH Repair Kit (Fig. 1)
Putty Knife
Electrical Drill and Bits
Electrical Grinder or Sander
Respirator
"C" Clamps
Hacksaw Blades and Holder
Files
Acetone or Lacquer Thinner
CTS-2408  Page 2
PRINTED IN UNITED STATES OF AMERICA