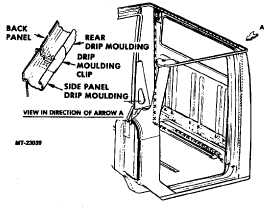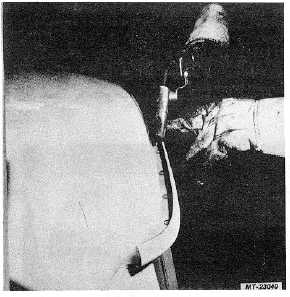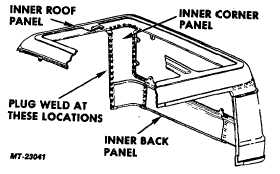 TRUCK SERVICE MANUAL
TM 5-4210-230-14&P-1
BODIES AND CABS
Fig. 50.  Securing Drip Moulding Clip
4.
Obtain  drip  moulding  clip  and  position  clip  so  as  to
close joint between old drip moulding on back of cab
and   drip   moulding   on   new   side   panel   (Fig.   50).
Secure with one plug weld at each side of joint.
5.
Clamp outer roof panel to drip moulding of new side
panel assembly and plug weld roof panel to moulding
(Fig. 51).
6.
Plug   weld   through   holes   drilled   for   removing   to
replace inner corner panel to inside of cab (Fig. 52).
If  new  inner  corner  panel  is  used,  plug  weld  holes
must be drilled into new panel before welding.
Fig. 51.  Fastening Roof Panel To New Side Panel
Fig. 52.  Installing Inner Corner Panel (Right Side - 80" Wide
Cab Shown)
7.
Grind,  sand  or  wire  brush  away  any  excess  weld  or
weld ash from all newly welded areas.
8.
Obtain body sealant (Plastisol Type 1 or equivalent)
and apply to the following locations:
a.
Roof panel to drip moulding seam.
b.
Side panel to back panel joint at rear of cab.
c.
Dash  filler  panel  to  dash  panel  joint  at  front  of
cowl.
d.
Drilled  out  holes  on  upper  side  of  sill  side  inner
panel to rocker panel seam (under cab).
9.
Apply  primer  paint  to  affected  areas  to  assure  good
protection from rust. Finish paint as required.
OTHER PANEL REPAIRS
Since   each   cab   panel   component   contributes   to   the
overall  strength  of  the  cab,  proper  welding,  sealing  and  rust-
proofing   practices   must   be   observed   for   any   other   panel
replacement.      Under-cab   components   especially   should   be
rust-proofed whenever cab repair operations are performed.
When rust-proofing cab components, use a good quality
air-dry  zinc  rich  primer.    Combination  type  primer-surfacer
paints are not recommended.  Finish paint as required.
CTS-2714R  Page 28
PRINTED IN UNITED STATES OF AMERICA