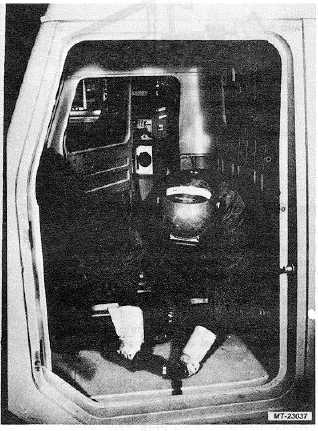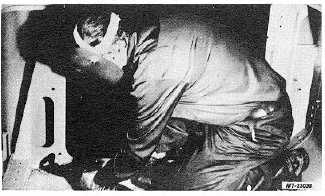 TRUCK SERVICE MANUAL
TM 5-4210-230-14&P-1
BODIES AND CABS
INSPECT CAB STRUCTURE FOR DAMAGE
With  side  panel  removed,  inspect  remainder  of  cab  for
damage.  Look especially for and repair:
1.
Damage to cab sill welds.
2.
Loosening of floor panels.
3.
Underbody  bent  out  of  alignment.    (This  step  can
vary  with  each  job.    Keep  in  mind  you  are  trying  to
return cab to its original condition.)
Reweld any cracked or missing welds.  The sill side inner
panel on the cab underbody must be straight and flat.
ALIGN NEW SIDE PANEL TO CAB
1.
Position and clamp new side panel assembly to side
of cab.
2.
Raise roof outer panel sufficiently to insert windshield
pillar top corner between inner and outer roof panels.
3.
Apply    heat    expanding    type    sealer    (Plastisol    or
equivalent) to this seam.
4.
Align   panels   to   establish   windshield   opening   and
install "C" clamps to secure.
5.
Align remaining joints at dash panel, cowl, roof panel
and  back  panel  using  "C"  clamps  to  hold  new  side
panel in place.
WELDING SIDE PANEL TO CAB
1.
Using  MIG  welder  inside  cab  (Fig.  48),  plug  weld
around   door   opening   through   holes   drilled   out   of
original cab panels during side panel removal.
CAUTION
Adjust  welder  so  as  not  to  damage  or  burn
sheet metal when performing these welds.
2.
Where  drilled  holes  are  not  accessible  such  as  at
bottom  of  rocker  panel,  use  2.5  cm  (1  inch)  seam
welds   spaced   7.5   cm   (3   inches)   apart   to   secure
rocker panel to sill side inner panel.
Fig. 48.  Using MIG Welder For Plug Welds
3.
At inside of cab weld base of inner side panels to sill
side inner panel (Fig. 49). Note: 80" wide cabs do not
use a seam weld at cowl seam joint but have a panel
extension on sill side inner panel to be plug welded to
inside of side panel.
Fig. 49.  Seam Weld At Inside Of Side Panel
CTS-2714R  Page 27
PRINTED IN UNITED STATES OF AMERICA