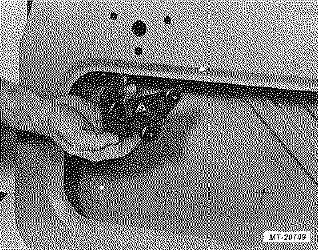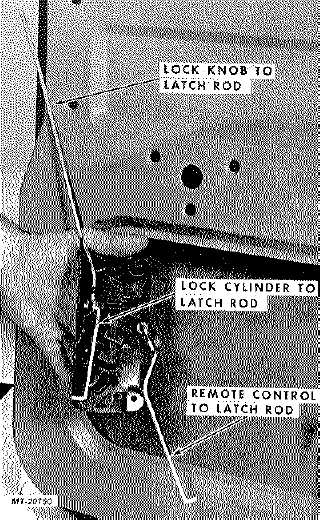 TRUCK SERVICE MANUAL
TM 5-4210-230-14&P-1
BODIES AND CABS
Fig.  20  Door Latch Assembly
Fig.  21  Removing Remote Control Assembly
Install
(Refer to Fig.  19 for Component Details)
1.
Position latch assembly to inside of door.  Latch jaws
must   be   closed   and   the   three   relay   control   rods
should be preassembled to latch.
Fig.  22  Removing Latch Assembly
2.
Pilot  threaded  end  of  upper  lock  knob  rod  through
lock   knob   hole   in   window   frame   while   positioning
latch.  Install lock knob.
3.
Secure latch assembly in door with five socket head
screws.
4.
Position remote control assembly in door and secure
with three socket head screws.
5.
Connect   the   two   remaining   relay   control   rods   to
remote  control  assembly  and  to  lock  cylinder  lever.
Secure rods with rod end clips.
6.
Operate latch assembly to assure correct assembly.
CTS-2714  Page 15
PRINTED IN UNITED STATES OF AMERICA