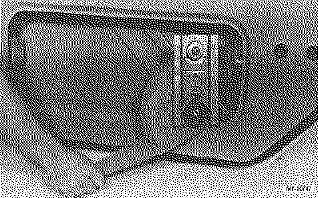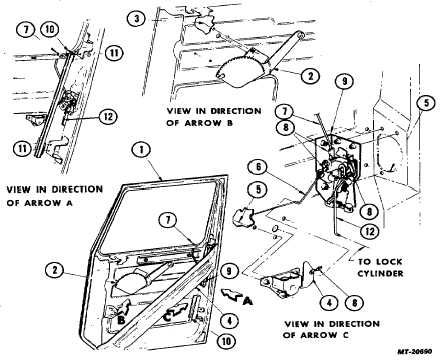 TRUCK SERVICE MANUAL
TM 5-4210-230-14&P-1
BODIES AND CABS
DOOR GLASS REGULATOR
The    cab    door    glass    regulator    is    serviced    as    a
complete unit with the door glass either in place or removed.
If it is not desired or necessary to replace door glass, simply
lower  glass  sufficiently  to  detach  regulator  lever  from  glass
and  then  push  glass  back  up  into  window  frame.    Secure
glass temporarily to top of door with tape.
Remove
1.
Remove door hardware, trim and access door (same
as for removing door glass).
2.
Lower  glass  to  bottom  of  door  and  remove  the  two
glass    fastener    screws    and    regulator    lever    from
window guide.
3.
Remove  window  guide  by  sliding  it  from  regulator
lever.
4.
Push   door   glass   up   in   window   frame   and   secure
glass to top of door with tape.
5.
Remove     the     four     retaining     screws     which     hold
regulator assembly in door.
6.
Push regulator shaft throughhole in door inner panel
and    remove    regulator    assembly    through    access
opening (Fig.  18).
Fig.  18  Removing or Installing Door Glass Regulator
Install
Cab door glass regulator installation is accomplished
by  reversing  the  foregoing  removal  procedure.    See  Fig.    19
for door internal component details.
Lubricate
Lubricate  cab  door  glass  regulator  gear  teeth,  arm
pin and slide at installation.  See Lubrication.
Fig.  19  Door Glass Regulator and Latch Details
CTS-2714  Page 13
PRINTED IN UNITED STATES OF AMERICA