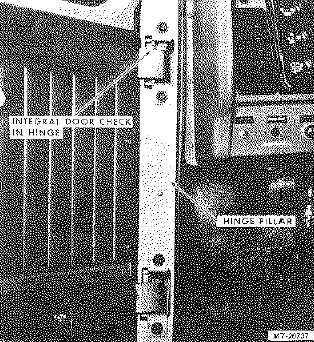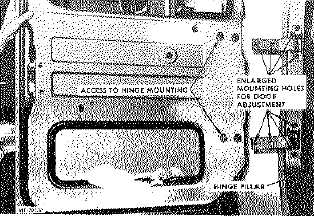 TRUCK SERVICE MANUAL
TM 5-4210-230-14&P-1
BODIES AND CABS
Legend
for
Figure
6
Key
Description
1
Hinge, Cab Door
2
Door, Assembly, Cab
3
Seal, Door Glass
4
Seal, Door
5
Seal, Door Glass Rear Channel
6
Glass, Door Window
7
Guide, Door Window
8
Channel, Rear Run
9
Knob, Door Lock
10
Rod, Lock Knob to Latch
11
Handle, Assembly Door Outer
12
Latch, Assembly, Door
13
Rod, Remote Control to Latch
14
Rod, Lock Cylinder to Latch
Key
Description
15
Control Assembly, Remote
16
Retainer, Door Trim
17
Panel, Door (Custom Trim)
18
Arm Rest
19
Washer, Door Trim
20
Handle, Window Regulator
21
Handle, Door Remote
22
Pocket, Manifest (Custom Trim)
23
Retainer, Access Door
24
Pocket, Manifest (Standard Trim)
25
Regulator, Assembly, Window
26
Seal Door Glass Front Channel
27
Vent, Assembly Window Glass
Fig.  7  Door and Hinge Details
DOOR HINGES
An  integral  door  check  (Fig.    7)  is  included  in  the
upper  hinge  used  with  this  door.    If  door  is  removed,  upper
and  lower  hinges  should  not  be  interchanged.    There  is  no
disassembly of hinges since they are serviced as a complete
unit.    It  should  also  be  noted  that  hinge  mounting  holes  are
elongated  to  provide  adjustment  for  positioning  cab  door  in
door opening.
Fig.  8.  Removing Door From Cab
Remove
1.
Remove     door     hardware     and     trim     as     covered
previously.
2.
Using a rope sling (or padded chain) through window
opening,   attach   sling   to   overhead   lift   and   support
door.
3.
Remove four button plugs for access to hinge bolts.
4.
Remove the four flange head hinge bolts and lift door
assembly from hinges (Fig.  8).
5.
Place door on saw horses or similar support. Protect
paint from scratches.
6.
To   simplify   door   adjustment   on   reassembly,   mark
hinge position on hinge pillar with scratch awl before
loosening   hinges.      Remove   the   three   flange   head
bolts  and  detach  door  hinge  from  hinge  pillar  (Fig.
9).
CTS-2714  Page 9
PRINTED IN UNITED STATES OF AMERICA