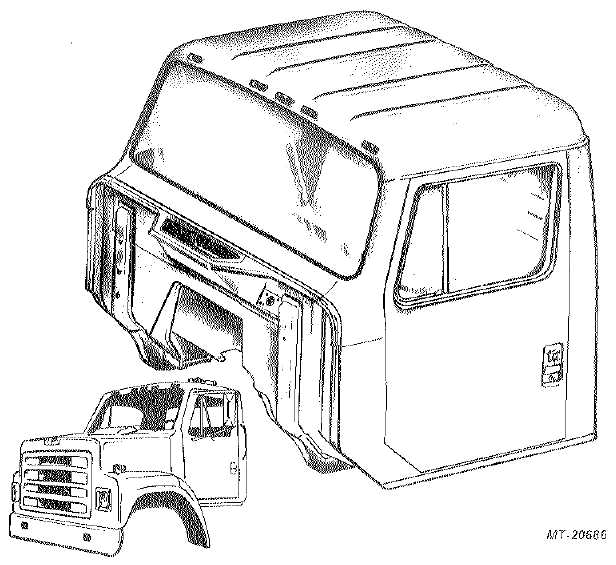 TRUCK SERVICE MANUAL
TM 5-4210-230-14&P-1
BODIES AND CABS
Fig.  1.  S-Series Conventional Cab
GENERAL
The   S-Series   mid-range   conventional   cab   shown
here  in  Figure  1  and  covered  in  this  manual  is  available  in
either  200  or  230  cm  width  (80  or  90  inch)  and  for  three
different bumper to back of cab (B.B.C.) dimensions.
This  manual  has  been  prepared  to  help  servicemen
maintain  cab  in  its  original  condition  or  restore  cabs  which
may have sustained damage.
CONTROLS INSTRUMENT PANEL
While  there  is  a  wide  range  of  optional  equipment
available on the S-Series models for
which  this  cab  is  used,  all  instruments,  gauges  and  driver
controls are located for driver convenience.  Fig.  2 shows the
cab    interior    and    a    typical    instrument    panel    installation.
Removable  panels  provide  for  easy  access  to  speedometer,
cables, gauges, bulbs, wiring, plumbing, switches, valves, etc.
CAUTION
Always    disconnect    battery    ground    before
servicing or removing instrument panel.
For   further   information   on   S-Series   instrument   panel   see
INSTRUMENTS CTS-2735.
CTS-2714R  Page 3
PRINTED IN UNITED STATES OF AMERICA