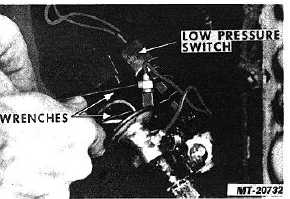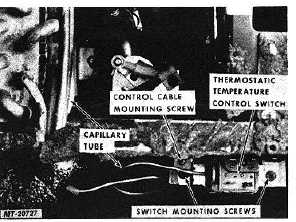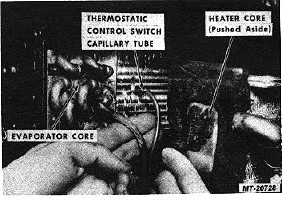 TRUCK SERVICE MANUAL
TM 5-4210-230-14&P-1
BODIES AND CABS
CAUTION
A small amount of refrigerant may escape from adapter while
low pressure switch is being removed.
Installation:
1.
Lubricate    threads    of    low    pressure    switch    with
refrigerant oil and position switch on adapter.
2.
Using two wrenches, tighten low pressure switch.
3.
Connect low pressure switch wires to wiring harness.
4.
Install
covers
on
heater/evaporator
unit
and
instrument panel.
Fig. 55  Removing Low Pressure Switch
THERMOSTATIC TEMPERATURE CONTROL SWITCH
Removal:
1.
Make sure key switch and A/C lever are "OFF" .
2.
Remove cover from right side of instrument panel.
3.
Remove cover from heater/evaporator unit.
4.
Disconnect  wiring  connectors  (3)  from  thermostatic
control switch.
IMPORTANT
Before  disconnecting  wires,  note  circuit  number  locations  to
assure correct reassembly.
5.
Remove control cable mounting screw (Fig. 56).
6.
Remove thermostatic control switch mounting screws
and remove switch from bracket (Fig.  56).
Fig. 56  Thermostatic Control Switch Mounting Details
7.
Remove  retainer  clip  and  disconnect  control  cable
from switch lever.
8.
Remove   heater   core   mounting   screws.      

(Do

  

not
disconnect hoses from heater core.) Pull heater core
outward  to  disengage  mounting  slot.    Move  heater
core    down    and    to    the    right.        (This    will    permit
withdrawal   of   thermostatic   control   switch   capillary
tube from evaporator core.
9.
Withdraw  thermostatic  control  switch  capillary  tube
from evaporator core (Fig.  57).
Fig. 57  Withdrawing Thermostatic Control Switch Capillary
Tube from Evaporator Core
CTS-2731  Page 38
PRINTED IN UNITED STATES OF AMERICA