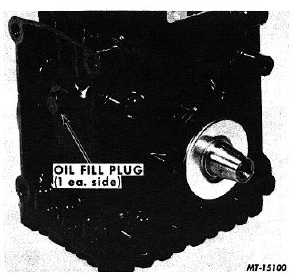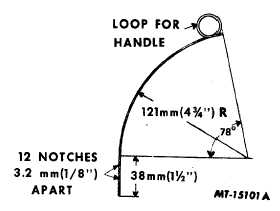 TRUCK SERVICE MANUAL
TM 5-4210-230-14&P-1
BODIES AND CABS
1.
Raise hood.
2.
Connect SE-2443 Service Station to air conditioning
system service ports as follows:
a.
Close  manifold  suction  and  discharge  gauge
valves (turn fully clockwise).
b.
Remove cap from compressor suction service
port.  Connect manifold suction gauge hose to
compressor suction service port.
c.
Remove   cap   or   engine   fan   drive   override
switch
(if
equipped)
from
compressor
discharge   service   port.      Connect   manifold
discharge
gauge
hose
to
compressor
discharge service port.
d.
Route    the    service    hose    from    the    center
manifold fitting into the shop exhaust removal
system or out of doors.
3.
Open the manifold gauge valves a

slight

amount and
allow refrigerant to discharge SLOWLY.
Do
not
allow
refrigerant
vapor
to
discharge
too
rapidly
as it will carry out the compressor oil as well.
When refrigerant has been discharged, both manifold
gauges will read zero.
4.
After  refrigerant  has  been  removed,  air  conditioning
system components can be removed for service.
CHECKING COMPRESSOR OIL LEVEL
The compressor is designed to provide a pressurized
oiling system where required, without the use of a mechanical
pump.  As long as a refrigerant flow is maintained, a certain
amount  of  oil  will  circulate  with  the  refrigerant  through  the
system.      When   the   compressor   is   operating,   there   is   a
pressure  difference  between  the  top  of  the  cylinder  and  the
crankcase.    This  pressure  difference  causes  some  oil  to  be
forced  down  the  cylinder  wall,  thus  lubricating  some  of  the
compressor parts.
Since  some  of  the  oil  from  the  compressor  pump  is
picked    up    and    circulated    through    the    system    with    the
refrigerant, it is very important that the compressor oil level be
checked whenever the system is opened for service.
To check compressor oil level, proceed as follows:
1.
Discharge
refrigerant
from
system.
(See
"Discharging the Air Conditioning System".)
2.
Remove  oil  fill  plug  from  side  of  compressor  (Fig.
36).
In   some   cases   it   may   be   necessary   to   remove
compressor   from   engine   to   gain   access   to   oil   fill
plug.
Fig.  36   Compressor Oil Fill Plug
3.
Insert  dipstick  through  oil  fill  hole  until  it  bottoms  in
compressor crankcase.
It may be necessary to rotate compressor crankshaft
slightly to permit entrance of dipstick.  Be certain that
dipstick is bottomed in crankcase.
Dipstick can be made locally from a 3.175 mm (1/8")
diameter   steel   rod   as   shown   in   Fig.      37,   or   is
available under service tool number SE-2392-3.
Fig.  37   Dimensions for Making Oil Level Dipstick
CTS-2731   Page 22
PRINTED IN UNITED STATES OF AM ERICA