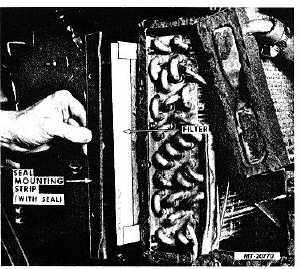 TRUCK SERVICE MANUAL
TM 5-4210-230-14&P-1
BODIES AND CABS
a.
Determine  that  system  is  operating  properly.
(See     "Physical     Checks"     under     SERVICE
OPERATIONS.)
b.
Observe  sight  glass  for  bubbles  (Fig.    33).
Sight glass should appear clear (no bubbles).
Bubbles   indicate   a   low   refrigerant   charge.
Add  refrigerant.    (See  "Adding  Refrigerant  to
System" under SERVICE OPERATIONS.)
Fig.  33   Sight Glass Indications
7.
Shut off engine and check air conditioning system for
refrigerant  leaks  using  an  electronic  leak  detector.
Follow equipment manufacturer's instructions.
OFF SEASON CARE
Heater
It    is    a    good    practice    to    operate    the    heater
occasionally  during  the  summer  season.    This  will  circulate
coolant through the heater core to remove any trapped air and
flush out possible accumulations of sediment.
Air
Conditioner
An   important   facet   of   off-season   care   of   the   air
conditioning    system    is    periodic    operation    of    the    unit.
Operating the unit for five minutes twice a month after engine
warm-up keeps the compressor seals lubricated.  If the seals
dry out, they may crack and leak.
Also, if the system is not operated periodically, clutch
and  compressor  bearings  could  become  brinnelled.    This  is
caused  by  the  continual  hammering  effect  on  the  bearing
surface in the same spot from normal vibration during vehicle
operation.  

Do

 

not

 

remove

 

the

 

compressor

 

drive

 

belt

 

during
the
off
-
season
.
In general, the system will function with less trouble if
it is not permitted to remain idle over long periods.
AIR FILTER REPLACEMENT
The  air  conditioning  system  air  filter  element  should
be   replaced   every   year   at   the   beginning   of   the   operating
season.      More   frequent   replacement   may   be   required   on
vehicles operated in dusty areas.
Replace air filter as follows:
1.
Remove cover from right side of instrument panel.
2.
Remove cover from heater/evaporator unit.
3.
Remove  seal  mounting  strip  (with  seal)  from  blower
housing (Fig.  34).
4.
Remove old filter element.
Fig.  34   Replacing Air Filter
5.
Install new filter element.  Be sure arrow on element
frame   points   in   direction   of   air   flow   (away   from
blower).
6.
Inspect  seal  and  replace  if  damaged.    Attach  new
seal to mounting strip with weatherstrip adhesive.
7.
Install   seal   mounting   strip   (with   seal)   on   blower
housing.
CTS-2731   Page 19
PRINTED IN UNITED STATES OF AMERICA