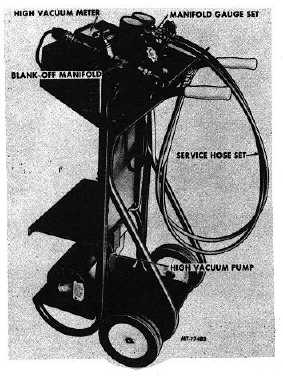 TRUCK SERVICE MANUAL
TM 5-4210-230-14&P-1
BODIES AND CABS
Portable
Air
Conditioning
Service
Station
The    SE-2443    Portable    Air    Conditioning    Service
Station (Fig.  32) consists of Manifold Gauge Set (SE-2444),
Service  Hose  Set  (SE-2445),  High  Vacuum  Pump  (SE-2446)
and    High    Vacuum    Meter    Kit    (SE-2447)    mounted    on    a
convenient  cart.    Space  is  also  provided  for  mounting  the
Heated Charging Cylinder (SE-2448).
Fig.  32   Portable Air Conditioning Service Station (SE-2443)
MAINTENANCE OPERATIONS
PRE-SEASON CHECKS
Experience  has  shown  that  many  problems  incurred
with  heating  and  air  conditioning  systems  result  from  lack  of
regular   maintenance.      Complete   pre-season   check   outs   of
heating   and   air   conditioning   systems   will   aid   in   obtaining
satisfactory performance during the operating seasons.  Pre-
season checks should be performed as outlined below.
With
Heater
Only:
1.
Check unit mountings for looseness.
2.
Check condition and tension of all drive belts.
3.
Check cleanliness of coolant.  Clean cooling system
if necessary and add new coolant.
4.
Check to see that radiator core fins are not plugged
with bugs or leaves, etc.
5.
Check  heater  core  fins  for  lint  or  other  material  that
could restrict air flow.
6.
Check  adjustment  of  control  cables.    (See  "Control
Cable Adjustment" under Service Operations.)
7.
Check operation of blowers.  Clean blower wheels if
necessary.
8.
Check water control valve adjustment.
9.
Check    cooling    system    shutter    operation    (where
equipped).
10.
Check  condition  of  heater  hoses  and  engine  cooling
system hoses.  Replace if necessary.
With
Heater
and
Air
Conditioner:
1.
Perform    pre-season    check    of    heater    portion    of
system as outlined above under "With Heater Only".
2.
Check compressor belt alignment and tension.  (See
"Compressor Belt Tension Check".)
3.
Check   condition   of   refrigerant   hoses   and   tubing.
Look    for    cracks,    chafing    or    other    damage    and
replace   as   needed.      Inspect   all   tubing   and   hose
connections.      All   connections   must   be   clean   and
tight.
4.
Install new air filter.  (See "Air Filter Replacement".)
5.
Clean    condenser,    radiator,    evaporator    core    and
blowers   of   all   dirt,   lint   or   other   foreign   material.
Cleanliness
of
these
components
cannot
be
overemphasized
.      Lack   of   proper   attention   in   this
area is one of the major causes of unsatisfactory unit
operation.      As   often   as   necessary,   squirt   water
through    condenser    towards    radiator    and    through
radiator towards condenser to flush debris out of fins.
Do
not
cover the condenser with a screen wire.
6.
Operate air conditioning system with controls set for
maximum   cooling   (A/C   lever   on   "COLD",   blower
switch on "HIGH") for about five (5) minutes.
With system operating:
CTS-2731   Page 18
PRINTED IN UNITED STATES OF AMERICA