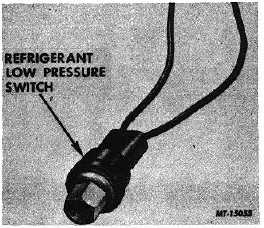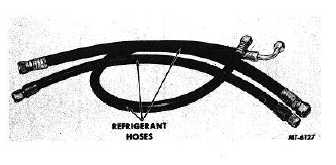 TRUCK SERVICE MANUAL
TM 5-4210-230-14&P-1
BODIES AND CABS
Insufficient  evaporation  could  result  in  "slugging"    -
drawing  of  liquid  refrigerant  into  the  compressor.    Also  an
insufficient   flow   of   refrigerant   does   not   provide   adequate
compressor lubrication.
If  evaporator  outlet  pressure  drops  to  approximately
34  kPa  (5  psi)  the  low  pressure  switch  closes,  throwing  the
low   pressure   switch   relay,   to   break   the   feed   circuit   to   the
magnetic clutch and disengage the clutch.  (See wiring circuit
diagram, Fig.  17.)
Fig.  13 Low Pressure Switch
Fan
Drive
Override
Switch
Vehicles  equipped  with  an  engine  cooling  fan  clutch
have   a   fan   drive   override   switch   located   in   the   refrigerant
compressor discharge service port.
If
compressor
discharge
pressure
exceeds
approximately  2070  kPa  (300  psi),  this  switch  engages  the
engine  fan  drive  clutch  to  provide  maximum  air  flow  through
the condenser.
The fan drive override switch is similar in appearance
to the low pressure switch illustrated in Fig.  13.
Solenoid
Control
Valves
Two  identical  solenoid  operated  control  valves  (Fig.
14)   may   be   used   in   conjunction   with   the   air   conditioning
system to assure that there is sufficient air flowing through the
condenser  to  prevent  excessive  refrigerant  compressor  head
(discharge) pressure.
The
shutter
control
valve,
activated
by
the
thermostatic  temperature  control  switch,  opens  the  radiator
shutter   and   keeps   it   open   (overriding   the   engine's   shutter
control) while the air conditioning system is "ON".
Fig.  14 Solenoid Valve
On   engines   equipped   with   an   engine   cooling   fan
clutch,  the  fan  drive  solenoid  valve,  responding  to  activation
by   the   fan   drive   override   switch,   engages   the   fan   clutch
whenever
compressor
discharge
pressure
becomes
excessive.
Refrigerant
Hoses
Hoses  and  tubing  are  used  to  carry  the  refrigerant
from  the  compressor  to  the  various  components  of  the  air
conditioning system and back to the compressor.  The hoses
(Fig.  15) must withstand certain temperatures and pressures.
Therefore  it  is  very  important  that  only  hoses  of  the  correct
sizes and types be used in the air conditioning system.
Fig.  15 Refrigerant Hoses
Refrigerant
The  refrigerant  is  the  substance  which  absorbs  and
removes the heat from the cab.  It must be a substance that
can be easily converted from a liquid to a vapor and back to a
liquid  at  reasonable  temperatures.    In  other  words,  it  must
vaporize   at   normal   ambient   temperatures   so   that   it   can
absorb the heat while passing through the evaporator.
The  type  of  refrigerant  used  in  IH  air  conditioning
systems is R-12.
CTS-2731   Page 9
PRINTED IN UNITED STATES  OF AMERICA