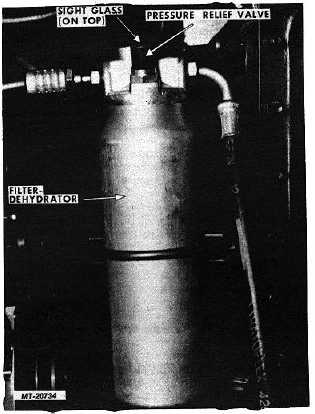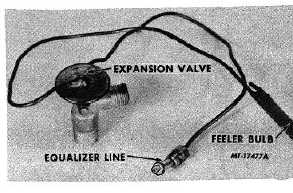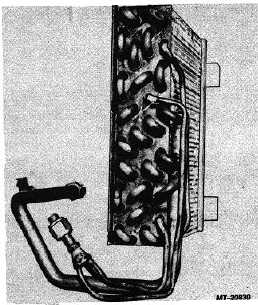 TRUCK SERVICE MANUAL
TM 5-4210-230-14&P-1
BODIES AND CABS
Fig.  9   Filter Dehydrator
Filter
-
Dehydrator
The   filter-dehydrator   (Fig.      9)   receives   the   high
pressure  liquid  refrigerant  from  the  condenser  and  removes
any foreign material or moisture which may have entered the
system.    This  unit  also  serves  as  a  reservoir  to  store  liquid
refrigerant until it is needed by the evaporator.
The   filter-dehydrator   unit   incorporates   a   pressure
relief valve which discharges refrigerant into the atmosphere if
pressure exceeds 3100 kPa (450 psi).  The valve reseals itself
automatically when pressure drops below 2750 kPa (400 psi)
and does not expel the entire refrigerant charge.
A   sight   glass   used   to   determine   need   for   adding
refrigerant is located at the top of the filter-dehydrator.
Expansion
Valve
The expansion valve (Fig.  10) is located between the
filter-dehydrator and the evaporator and regulates the flow of
refrigerant entering the evaporator.
Leaving the expansion valve, the refrigerant starts to
evaporate   and   expand   entering   the   evaporator   as   a   low
pressure liquid-gas mixture.
Attached   to   the   top   of   the   expansion   valve   is   a
capillary tube with a feeler bulb which is clamped to the outlet
(suction)  pipe  of  the  evaporator.    The  sealed  bulb  and  tube
are filled with gas which expands and contracts according to
temperature  surrounding  the  bulb.    The  feeler  bulb  senses
temperature  of  refrigerant  leaving  the  evaporator.    A  second
capillary  tube  is  attached  under  the  valve  diaphragm  and  is
connected to the evaporator outlet (suction) pipe.  This is an
equalizer line which senses suction pressure.  Together, they
regulate the amount of refrigerant entering the evaporator.
Fig.  10   Expansion Valve
Fig.  11    Evaporator Core
Evaporator
The   evaporator   core   (Fig.      11),   mounted   in   the
combination heater-evaporator-blower unit,
CTS-2731   Page 7
PRINTED IN UNITED STATES OF AMERICA