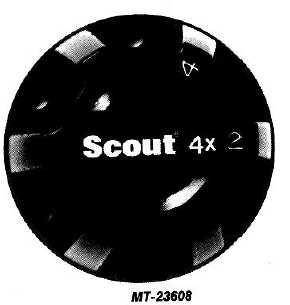 TRUCK SERVICE MANUAL
TM 5-4210-230-14&P-1
AXLE-FRONT
OPERATION
When  the  locking  hubs  are  engaged  in  "4  x  4"  and
transfer   case   is   in   4W,   full   power   is   transmitted   to   both
wheels.  When both front wheels are disengaged or in "4 x 2"
position  and  transfer  case  in  2W,  shafts  and  differential  will
remain  idle,  overcoming  any  unnecessary  wear.  For  the  first
320 km (200 miles) operate your new vehicle with the locking
hubs in "4 x 4" position to assist in initial break-in of the front
driving   axle.      Place   transfer   case   control   in   2wheel   drive
position.
Fig.2.  Dial Control
Always    shift    transfer    case    to    2H    before    attempting    to
disengage the locking hubs.
DO  NOT  DRIVE  unless  controls  on  both  hubs  are  set  the
same!
To  avoid  excessive  torque  loads  on  the  rear  axle,  DO  NOT
drive  vehicle  in  low  range  of  transfer  case  with  locking  hubs
set in "4 x 2" position.
LUBRICATION
When reassembling the locking hub, lubricate as follows:
Lubricate dial, seal, splines, threads, ring and bearing with IH
251 HEP grease.
SERVICING
This locking hub is servied in two major assemblies, namely,
a    clutch    half    and    cap    assembly.        Since    all    individual
components are not provided, refer to the Scout Parts Catalog
when ordering.
To disassemble:
1.
Bend lock tabs out of way.
2.
Remove six (6) bolts.
3.
Remove cap assy.
4.
Remove snap ring from axle shaft.
5.
Remove clutch assy.
To reassemble:
1.
Wipe mounting surfaces clean.
2.
Reverse disassembly procedure using new lock tabs.
A gasket is not used with this assembly; as the clutch
assembly seals automatically with the wheel hub.
TORQUE SPECIFICATION
Torque  hub  assembly  mounting  bolts  to  32-40  ft.  Ibs.  43-54
N-m.
CTS-2785 CHAPTER II Page 3
PRINTED IN UNITED STATES OF AMERICA