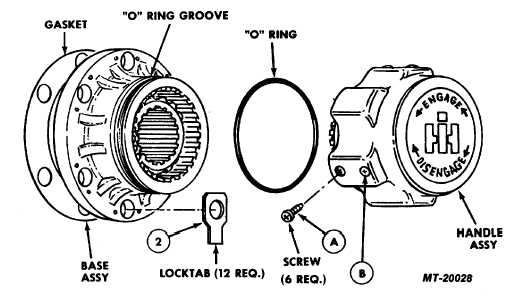 TRUCK SERVICE MANUAL
TM 5-4210-230-14&P-1
AXLES-FRONT
CHAPTER II
DISASSEMBLY:
1.
With  handle  in  disengage  position,  remove  handle
assembly by removing the three screws "A".  Do not
remove the three screws "B".
2.
If screws "B" are removed, misalignment could occur
on reassembly causing damage to cam.  There is no
reason to ever remove screws "B".
3.
Remove and retain retaining ring on axle.
4.
Remove base assembly, by removing six bolts.
5.
If  locktabs  were  used,  the  tabs  must  be  bent  out  of
the way of the bolt head.
6.
Clean gasket surfaces thoroughly.
7.
Wipe the axle spline clean and lubricate.
REASSEMBLY:
1.
Install  the  base  assembly  with  new  gasket  in  place,
to the vehicle hub.
2.
Secure base assembly to vehicle with bolts and new
lock tabs.
3.
The tab on the locktab is to be bent up against flat on
head of bolt to insure against loosening.
4.
Install retaining ring on axle shaft.
5.
Install new "O" ring into groove on base assembly.
6.
Apply thin film of grease to "O" ring, prior to installing
handle assembly.
7.
Place the handle assembly in position.
8.
With  the  splines  of  the  sliding  gear  aligned  with  the
splines within base, push the handle assembly on the
base.
9.
Using hand pressure, compress the spring enough to
allow  the  screw  holes  for  screws  "A"  to  line  up  with
the groove in base.
10.
Insert   three   new   screws   "A".     

DO

  

NOT

  

FORCE

.
Screws   must   enter   and   screw   into   place   freely.
Fig. 1.
CTS-2209-P  Page 1
PRINTED IN UNITED STATES OF AMERICA