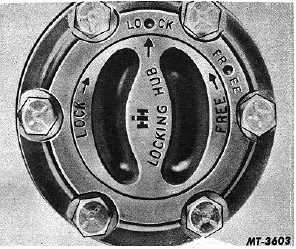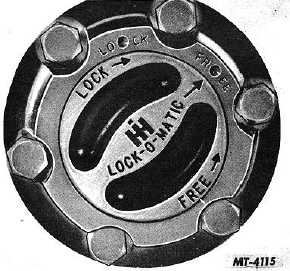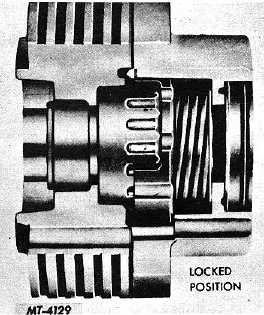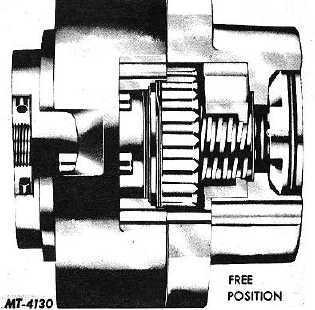 TM 5-4210-230-14&P-1
AXLES-FRONT
TRUCK SERVICE MANUAL
CHAPTER I
DESCRIPTION
Locking    hubs    provide    a    means    of    controlling    the
engagement  of  the  front  wheels  with  the  front  driving  axle.
When-the locking hubs are engaged or "LOCK, " full power is
transmitted to both wheels, Fig.  1.  When both front wheels
are disengaged or in "FREE" position, Fig.  2, the front wheels
will  turn  but  the  axle  shafts  and  differential  will  remain  idle,
overcoming any unnecessary wear.
Fig.  1  Locking Hub (Manual Type)
Fig.  2  Locking Hub (Lock-O-Matic)
Manual
Type
There are at present two types of manual locking hubs
which were and are being used on I.H.  vehicles.  The original
locking hub, Figs.
3,  4  and  6,  is  engaged  or  disengaged  by  turning  the  control
assembly to "LOCK" or "FREE" position.  If the arrow and the
dot   do   not   line   up   directly   across   from   each   other   at   the
desired  setting,  the  clutch  ring  and  axle  hub  are  not  aligned,
and   moving   the   vehicle   forward   or   backward   slightly   will
permit the engagement of the clutch ring on the axle shaft.
Fig.  3  Locking Hub Engaged ("LOCK") Position
Fig.  4  Locking Hub Disengaged ("FREE") Position
CTS-2209-P  Page 2
PRINTED IN UNITED STATES OF AMERICA