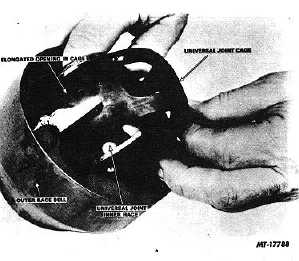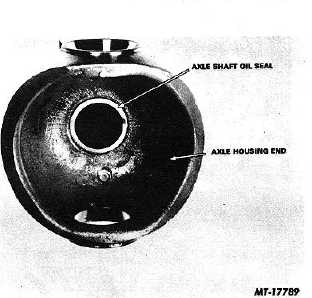 TM 5-4210-230-14&P-1
TRUCK SERVICE MANUAL
the    two    elongated    openings    in    cage    aligned    with
opposite teeth of outer race bell (Fig. 12).  Lift cage and
inner race from outer race bell.
Fig.  12   Removing Cage and Inner Race
4.
To  separate  inner  race  from  cage  turn  inner  race  at
right  angle  to  cage,  align  notched  tooth  of  inner  race
with elongated opening in cage, and roll inner race out
of cage.
Cleaning and Inspection
Remove all dirt, old lubricant and gasket material from
all components.  Immerse in cleaning solvent and use a stiff
brush if necessary.  Bearings should be cleaned separately in
clean  solvent  and  special  efforts  taken  to  protect  their  finely
machined surfaces.  If compressed air is used for drying, do
not spin bearings while drying.
Examine  all  bearings  for  roughness,  damage  or  wear
by rotating each bearing slowly in the hand.  If in doubt as to
bearing condition, replace.
Inspect   axle   shaft   and   universal   joint   assembly   for
seizure,   broken   or   chipped   balls,   broken   splines   or   other
damage
Inspect   spindle   bushing   for   out   of   round   condition
caused by wear or corrosion, scoring or roughness in spots.
Inspect   axle   shaft   oil   seal   for   evidence   of   wear   or
damage.
Inspect   for   evidence   of   wear   due   to   improper   drive
flange shim size.  Wear on the interior surface of ball end of
axle housing and on edge of ball joint bell housing indicates
the use of too thin a shim, allowing contact between the two.
If  shim  is  too  thick,  the  spindle  bushing  will  show  excessive
wear.
Oil Seal and Bearing Replacement
1.
To replace axle shaft oil seal (Fig.  13) pry out old seal
from  bore  of  axle  housing  and  discard.    Install  new
seal.  Seal must contact counterbore.
Fig.  13   Axle Shaft Oil Seal
2.
To   remove   upper   and   lower   trunnion   bearing   cups,
drive cups out of axle housing bores with a driver and
brass drift inserted through the opposite bore (Fig.  14).
When installing new trunnion bearing cups care should
be taken not to nick or scar bearing mating surface of
cup.
Cups  and  bearings  should  be  replaced  as  a  matched
set.
3.
To  remove  spindle  bushing  (Fig.    15)  insert  puller  in
bushing bore and extract old bushing and discard.
Install   new   bushing   in   bore.      Bushing   must   contact
counter bore.
CTS-2658S  Page 16
PRINTED IN UNITED STATES OF AMERICA