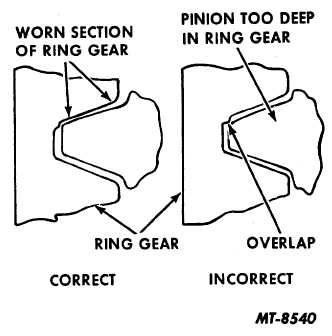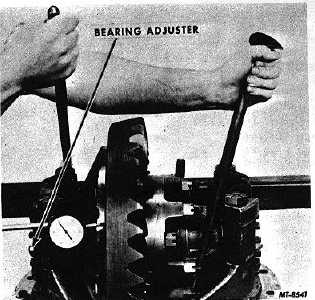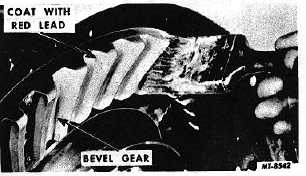 TM 5-4210-230-14&P-1
TRUCK SERVICE MANUAL
checking backlash, the amount measured is in excess of the
amount shown on the ring gear, the lash may be reduced only
in the amount that will avoid overlap of the worn tooth section
(Fig, 17).  A slight overlap at the worn section will cause gear
operation to be noisy and rough.
Fig.   17   Correct  and  Incorrect  Lash  Adjustment  where  worn
Gears are Reinstalled
Differential Bearing Preload
35.
To set the bearing preload, mount dial indicator at side
of ring gear (Fig.  18). With the bearing capscrews loosened
to   permit   bearing   movement,   loosen   adjusting   nuts   only
enough to notice end play on indicator.
36.
While gear is held in .000" end play and before loading
bearings,  check  gear  for  runout  by  revolving  ring  gear.    If
runout exceeds 20 mm (.008"), remove differential and check
for  cause.  37.    Tighten  both  adjusting  nuts  from  .000"  end
play
to
preload
the
differential
bearings
(see
"SPECIFICATIONS").
38.
Tighten    bearing    cap,    capscrews    or    stud    nuts    to
specified torque (see "TORQUE CHART").
39.
Recheck gear lash to make certain that the lash setting
has not been changed.
Fig.  18  Adjusting Bearing Preload
40.
Install adjusting rings locks and cotter pins.
Gear Tooth Contact
41.
Apply  oiled  red  lead  lightly  to  the  hypoid  gear  teeth
(Fig.  19).
Fig.    19    Painting  Gear  Teeth  for  Obtaining  Tooth  Contact
Impressions
42.
When  the  pinion  is  rotated,  the  red  lead  is  squeezed
away by the contact of the teeth, leaving bare areas the exact
size, shape and location of the contacts (Fig.  20).
43.
Sharper  impressions  may  be  obtained  by  applying  a
small  amount  of  resistance  to  the  gear  with  a  flat  steel  bar
and   using   a   wrench   to   rotate   the   pinion.      When   making
adjustments, check the drive side of the gear teeth. Coast side
should   be   correct   when   drive   side   is   correct.      Generally,
coating approximately
CTS-2658S  Page 10
PRINTED IN UNITED STATES OF AMERICA