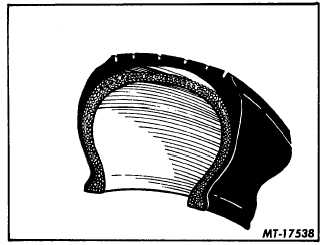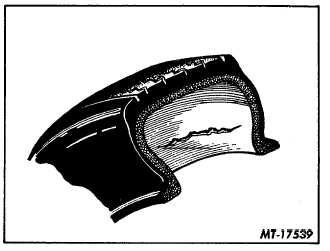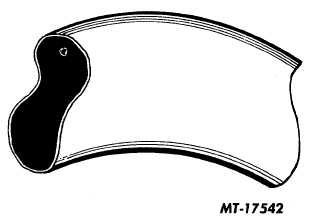 TRUCK SERVICE MANUAL
TM 5-4210-230-14&P-1
WHEELS, RIMS, TIRES
TIRE INJURIES
Ply or Tread Separation:
Ply  or  tread  separation  as  shown  in  Fig.  18  can  result
from underinflation, overloading, or high speed.
Driving  a  tire  that  is  flat  or  seriously  underinflated  can
cause    unrepairable    cord    breakage,    ply,    and    even    tread
separation.    The  amount  of  damage  is  directly  proportional  to
the    amount    of    underinflation    and    distance    driven    in    this
condition.
Fig. 18  Tread Separation Result of Underinflation, Overloading,
or High Speed
Cord Breakage:
The proper deflection of tire sidewalls is inhibited by the
increased    tension    caused    by    overinflation.        Overinflation
increases strain on the cords in the tread area and the tire loses
its     ability     to     absorb     ordinary     road     shocks.     Under     this
overinflated condition an impact can cause either an X-break or
a  diagonal  break.  Four  pounds  extra  pressure  for  high  speed
driving  is  not  considered  overinflation,  providing  the  maximum
inflation of the tire is not exceeded.  Reduce cool air pressure to
recommended level.  Never "bleed" air from a hot tire.
Even  with  properly  inflated  tires,  cords  can  be  broken
when  a  tire  is  crushed  between  an  object  like  a  concrete  curb
and steel rim of the wheel.  The position and breakage of cords
is determined by the angle and force of impact.
Fig. 19  Broken Cords Caused by Severe Blow
INNERTUBE INJURIES
Chafed Innertube:
Innertubes  that  are  chafed  by  the  tire  can  be  prevented
by proper mounting techniques. First inflate innertube to 10 psi,
deflate  and  reinflate  innertube  to  recommended  pressure.  This
procedure will prevent chafing.
Damage  to  both  the  innertube  and  inside  of  tire  can  be
caused  by  not  cleaning  foreign  matter  from  tire,  innertube,  or
wheel  at  time  of  assembly.    Thoroughly  clean  tire,  innertube,
and  wheel  removing  all  foreign  matter,  dirt,  rust,  and  labels
from all surfaces.
Fig. 20  Damage Caused by Dirt In Tire
CTS-2176N  Page 9
PRINTED IN UNITED STATES OF AMERICA