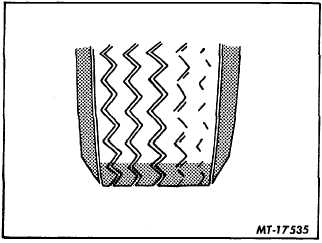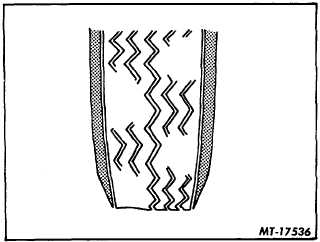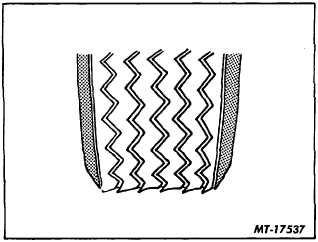 TRUCK SERVICE MANUAL
TM 5-4210-230-14&P-1
WHEELS, RIMS, TIRES
Camber:
Excessive even tread wear on one or the other side of a
tire indicates too much wheel camber, Fig. 15.  Unequal camber
can cause one tire to wear uneven and pull vehicle to one side.
Readjust camber to specifications of vehicle, see proper service
manual.
Fig. 15  Excessive Even Tread Wear on One Side Caused by
Too Much Camber
Mechanical Problems:
Mechanical
problems
or
underinflation
can
cause
irregular  tread  wear  as  shown  in  Fig.  16.    A  single  spot  or  a
series of cuppings around the circumference of a tire is usually
caused  by  a  combination  of  worn  wheel  bearings,  worn  shock
absorbers,    loose    tie    rods,    out    of    balance    wheel    and    tire
assemblies,  or  brakes  that  grab.   Inspect  and  service  parts  as
required.
Caster is the backward tilt of the axle or inclination of the
king  pin  at  the  top.    Too  little  caster  causes  wheel  wander  or
weave resulting in irregular tread wear.  Too much caster may
cause wheel "shimmy".  Unequal caster will cause wheel pull to
one side, resulting in excessive irregular tread wear.
Fig. 16  Irregular Tread Wear May be a Sign of Mechanical
Problems
Misalignment:
Misalignment causes a tire to be dragged sideways over
the  road.    Excessive  toe-in  produces  a  feathered  edge  on  the
inside of the tread design.  Toe-out causes a feathered edge on
the   out-side   of   the   tread   design.      Align   to   specifications   of
vehicle.
Fig. 17  Feathered Edge is Result of Misalignment
CTS-2176N  Page 8
PRINTED IN UNITED STATES OF AMERICA