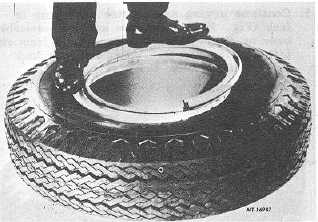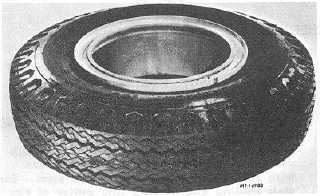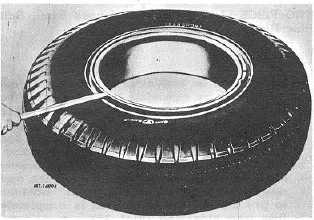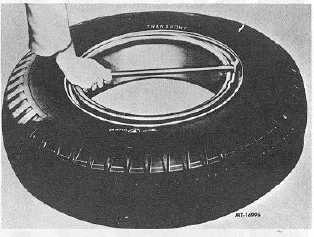 TRUCK SERVICE MANUAL
TM 5-4210-230-14&P-1
WHEELS, RIMS, TIRES
2.  
Continue "Walking" side-ring into place (Fig.  41).  ,
Fig.  41
3.    Check  to  insure  that  side-ring  is  fully  seated  in  gutter  as
shown in Figure 42.
Fig.  42
4.  
Place tire assembly into safety cage and inflate to a
maximum of 10 psi using an extension hose with gauge
and clip-on chuck.   Check side-ring by lightly tapping
with mallet to insure proper engagement.  Inspect to
insure proper seating of beads.  Completely deflate tire
to prevent tube from buckling.  Reinflate to
recommended pressure.
THREE-PIECE FLAT BASE
Dismounting:
1.  
Remove valve core and completely deflate the tire or
both tires if working on duals before removing the tire
and rim assembly from the truck.  Remove tire
assembly from truck and place on floor with the side-
ring up.  Insert
tapered   end   of   rim   tool   into   depression   in   lock   ring,   or
between  rings,  and  press  down  on  side  ring  to  free  bead.
Continue  around  tire  until  the  bead  is  completely  freed  from
the bead seat (Fig.  43).
Fig.  43
2.  
Insert rim tool into removing notch, near split in the ring
and push downward to remove lock-ring from rim
gutter.  A second rim tool may be helpful to aid in
removal (Fig.  44).
Fig.  44
3.  
Insert rim tool between lock-ring and sidering.  Press
down to pry ring up and continue around rim until lock-
ring is free (Fig.  45).  Remove lock and side-rings from
rim.  Turn assembly over, unseat second tire bead,
stand tire up and remove rim base.
CTS-2032N  Page 14
PRINTED IN UNITED STATES OF AMERICA