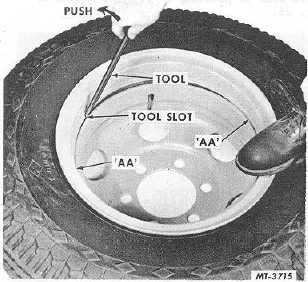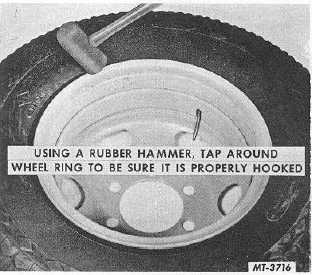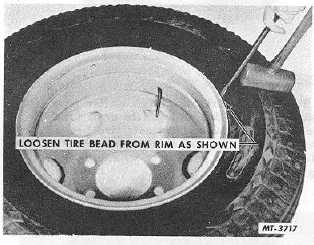 TRUCK SERVICE MANUAL
TM 5-4210-230-14&P-1
WHEELS, RIMS, TIRES
Fig.  27
Using a rubber hammer tap around wheel (side) ring to
be certain it is properly seated  (Fig.  28).
Fig.  28
When side ring is properly installed on rim, it is loose.
If side ring cannot be moved, the ring is binding.
CAUTION!
TO
PREVENT
POSSIBLE
BODILY
INJURY
caused  by  the  wheel  side  ring  being  blown  off  with  extreme
violence during inflation,  

DO

 

NOT

 stand  unprotected  in  front
of  side  ring  when  inflating  tire.    If  no  protection  device  is
available, stand wheel and tire close to a solid wall with side
ring facing the wall.  Inflate tire from side opposite ring.  If no
solid  wall  is  available  place  tire  and  wheel  on  floor  with  side
ring next to floor (down) and inflate from above keeping body
AWAY
from directly in front of or above tire at all times.  See
Precautions, Chapter I.
Inflate tire until tire beads are firmly seated against rim
flanges.  CAUTION: Never inflate above 40 psi to seat beads.
Completely deflate tire by removing valve core; then reinflate
tire to recommended pressure.
Refer to "Operator's Manual" for recommended inflation
pressures.    /
Fig.  29
To  remove  side  ring  from  a  new  rim,  spread  the  rim
and side ring apart.  Insert tool in the tool slot and pull tool to
the left.  After side ring starts to lift over lip, remove ring from
rim (Fig.  29).
MOUNTING NUTS (Disc Wheels)
Where   Standard   automotive   type   disc   wheels   have
been used in the past, both left and right hand threads will be
found   at   the   wheel   mounting   studs   and   nuts.      Common
practice  has  been  to  use  left-hand  threads  at  the  left-hand
wheels and right-hand threads at the right side of the vehicle.
This was done to assure keeping wheel mounting nuts tight.
CTS-2032N  Page 10
PRINTED IN UNITED STATES OF AMERICA