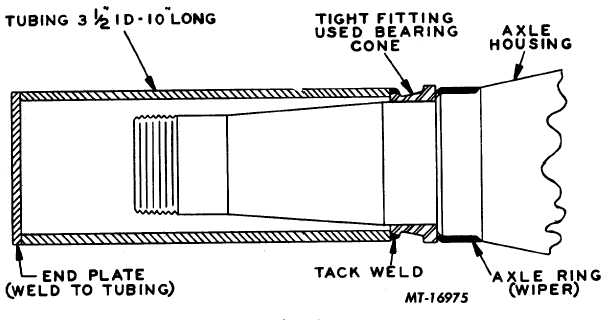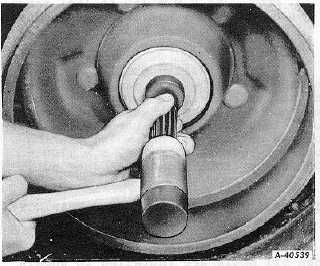 TRUCK SERVICE MANUAL
TM 5-4210-230-14&P-1
WHEELS, RIMS, TIRES
Fig.  5
OIL SEAL INSTALLATION
(OIL SEAL WITH AXLE RING)
1.
Remove burrs from inside back edge of hub.  Hub must
be smooth and free from burrs that will scratch the hub
seal.
2.
Apply   a   thin   coat   of   Permatex   No.      2   around   the
outside perimeter of hub seal.  Permatex coating must
be very light yet cover press fit area.  Remember that
Permatex  is  abrasive  and  should  never  be  allowed  to
contact lip of leather seal nor contaminate oil.
3.
Lay  wheel  flat  with  brake  drum  up.  Place  inner  wheel
bearing   into   bearing   cup   and   place   hub   seal   into
starting position on hub.
4.
Install  hub  seal  using  SE-1904  Installer  Set  (Fig.    6).
Select the size disc which will apply force to outer edge
of  hub  seal  and  prevent  seal  from  becoming  distorted
or damaged.
5.
Drive hub seal into hub until it bottoms in hub bore.  Do
not  continue  to  drive  after  seal  is  once  seated  as  this
will  distort  or  damage  the  seal.  After  removal  of  seal
installer   tool,   clean   off   excess   Permatex   (for   proper
installation, note Fig.  7).
UNITIZED OIL SEAL
(AXLE RING NOT REQUIRED)
Unitized oil seals do not require axle rings (wipers) and
minimize wear on the axle spindle as follows.  The outer shell
of the seal being pressure fit in the wheel hub rotates with the
wheel around the sealing element which is pressure fit on the
axle   spindle.      With   the   unitized   seal   when   replacement   is
made,  the  worn  surface  created  by  the  sealing  lip  is  also
replaced.
Fig.  6
CTS-2032N  Page 4
PRINTED IN UNITED STATES OF AMERICA