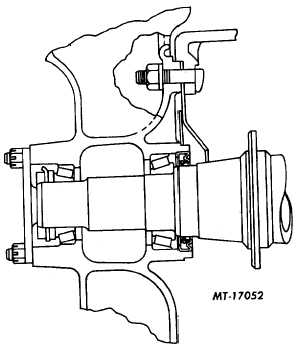 TRUCK SERVICE MANUAL
TM 5-4210-230-14&P-1
WHEELS, RIMS, TIRES
Fig.  4.  Medium Duty
REAR WHEEL BEARINGS
Full  Floating  axle  wheel  bearings  (Fig.    3  and  Fig.    4)
are adjusted by an adjusting (inner) nut on end of axle. Install
adjusting  nut  and  rotate  wheel  while  tightening  to  be  sure
bearings are properly seated.
NOTE:      68.0   N•m    (50    ft    lbs)    torque    on
adjusting  nut  is  considered  sufficient  to  seat
bearings.
Back  off  adjusting  nut  1/4  turn  and  install  lockwasher
and jam nut.  Tighten jam nut to 203 N•m (150 ft lbs) torque
and  bend  over  lockwasher  tang  to  secure  nut.    Assemblies
which  use  doweled  adjusting  nut  and  pierced  wheel  bearing
nut lock require 271-407 N•m (200-300 ft lbs) torque on outer
lock nut.
OIL SEALS (OIL LUBRICATED WHEEL BEARINGS)
Various  precautions  are  necessary  when  oil  seals  are
installed  in  wheels  and  also  when  wheels  with  oil  seals  are
installed on axles.  To insure satisfactory performance from oil
seals,  the  following  information  has  been  prepared  to  guide
and assist in proper installation.
Due to the various types of front and rear axle hub seal
installations, check axle ring and hub seal position at time of
disassembly  to  assure  proper  reassembly  of  new  seal  and
axle ring (wiper).
OIL SEALS WITH AXLE RING (WIPER)
Axle
Ring
(Wiper)
Installation
1.
Thoroughly    clean    all    parts:    axle    tube    or    spindle,
bearings, nuts and inside of wheel hub.
2.
Remove   burrs   from   axle   tube   or   spindle   shoulder.
Shoulder must be smooth.
3.
Apply a thin coat of Permatex No.  2 to inside perimeter
of axle ring.
4.
Place   axle   ring   on   axle   tube   or   spindle   using   an
installing tool (Fig.  5).
NOTE:  A suitable installing tool can be made
locally  by  obtaining  a  piece  of  standard  8.9
cm
(3-1/2")
inside
diameter
tubing
approximately 25.4 cm (10") long.
Weld a used close fitting bearing cone or large washer
to one end and similarly close opposite end with a plate. This
will  enable  tool  to  pilot  squarely  onto  axle  tube  and  permit
driving force to be centered over the complete ring.  The same
type of tool can be used for both front and rear axles.
The care with which the axle ring is installed cannot be
over-emphasized. Damage to this ring will result in shortened
seal life.
5.
Tap   on   end   of   axle   tool   driving   axle   ring   firmly   on
shoulder   until   axle   tool   contacts   shoulder.      Remove
excess Permatex.
6.
Check position of axle ring to make sure edge of ring is
parallel with shoulder.
CTS-2032N  Page 3
PRINTED IN UNITED STATES OF AMERICA