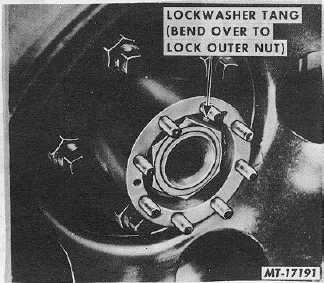 TRUCK SERVICE MANUAL
TM 5-4210-230-14&P-1
WHEELS, RIMS, TIRES
CHAPTER I
WHEELS
GENERAL
The information presented herein covers factory installed wheels and hubs for medium and heavy duty vehicles.  Many types
of wheels are available and they vary in size, types (disc or cast) and materials (steel or aluminum).  Fundamentally, they are the
same in that all wheels (or hubs for disc wheels) are mounted to the axles on tapered roller bearings.
SAFETY PRECAUTIONS
Always deflate tires completely before removing locks or side rings.
Always inspect and clean all parts before assembly.
Always inflate tires in safety cage.
Always use a "clip-on" air chuck with remote valve to inflate tires.
Never mix parts of different types or size.
Never use cracked, bent or badly rusted parts.
Never reinflate flat tire on vehicle--use the spare.
Never add air until certain each side or lock ring is fully seated.
WHEEL BEARING ADJUSTMENT
Satisfactory   wheel   operation   and   long   bearing   life
depends on correct wheel bearing installation, lubrication and
adjustment.        The    following    will    help    you    perform    these
required services for wheels and hubs.
FRONT WHEEL BEARINGS
Wheels  or  hubs,  bearing  cups,  nuts,  locks,  hub  caps,
shafts  and  spindles  are  to  be  free  from  any  foreign  matter.
Bearing    cones    must    be    properly    packed    with    specified
lubricant  if  wheels  are  grease  packed  (see  LUBRICATION,
Section
If wheel bearings are oil lubricated dip bearing cones in
lubricant to provide proper starting lubrication.  Outer surface
of bearing cone and matching surface of cup may be coated
with  lubricant  to  promote  cone-to-cup  adhesion  and  facilitate
assembly.
After wheel (or hub) and bearings are assembled in place on
the spindle, tighten the wheel bearing adjusting nut to 69 N•m
(50 ft lbs) while rotating the wheel.  Then back off the nut 1/4
turn. If the lock or cotter key can be installed at this position,
do so; if not,
tighten  to  the  nearest  locking  position  and  insert  new  key  or
lock.  Bent type lockwasher is to have one tab bent over the
adjusting   nut.      For   axles   that   have   double   nut   type   lock,
tighten jam nut to 136-203 N•m (100 -150 ft lbs) and bend one
tab   of   the   lockwasher   over   the   jam   nut   (Fig.      1).      These
procedures are intended to result in zero to .25mm (.010") end
play with no preload.
Fig.  1
CTS-2032N  Page 1
PRINTED IN UNITED STATES OF AMERICA