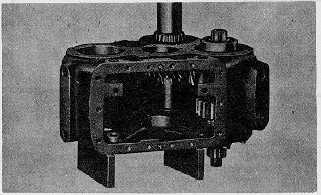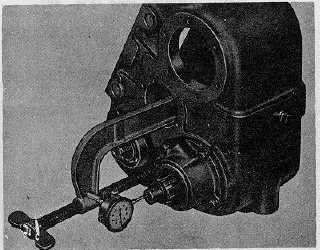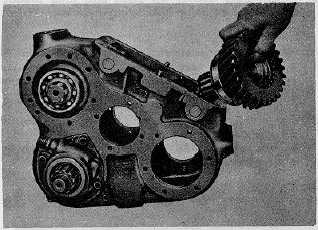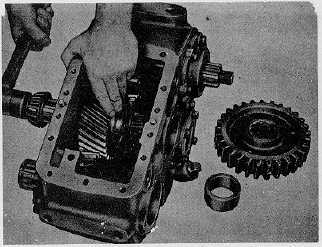 TRUCK SERVICE MANUAL
TM 5-4210-230-14&P-1
TRANSMISSION
Fig.  29
13.   Install spacer and speedometer drive gear over shaft.
14.   Position   new   gasket,   bearing   cap   (and   oil   seal)   over
shaft.    Install  lockwashers  and  capscrews  and  tighten  to
specified torque.
15.   Rotate  shaft  to  seat  bearings.    Mount  a  dial  indicator
against rear .,,d of shaft to check amount of end play in
assembly (Fig.  30). Remove sufficient shims from under
front  bearing  cap  to  arrive  at  an  adjustment  of  zero  end
play and zero preload.
IMPORTANT
The   front   output   gear   must   be   installed   in
case before idler assembly is installed.
16.   Install  ball  bearing  on  hub  of  gear.    Position  gear  and
bearing in case and install snap ring on bearing (Fig.  31).
Fig.  30.
Fig.  31.
17.   Install    rear    bearing    cap    over    a    new    gasket.    Insert
capscrews   and   lockwashers   and   tighten   to   specified
torque.
18.   Press rear bearing on idler shaft.  Install snap ring.
19.   Hold  Hi  gear  in  position  inside  case  and  tap  idler  shaft
through it with soft hammer.  The short hub side of gear
goes to the outside, rear (Fig.  33).
Fig.
32
Fig.
33
CTS-2048Q  Page 11
PRINTED IN UNITED STATES OF AMERICA