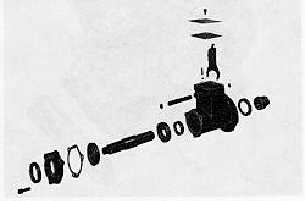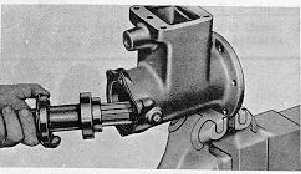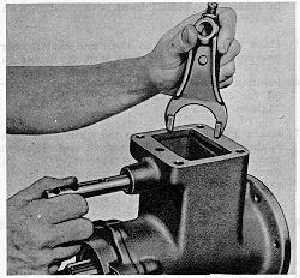 TRUCK SERVICE MANUAL
TM 5-4210-230-14&P-1
TRANSMISSION
Parts that have been cleaned, dried, inspected and are to
be immediately reassembled should be coated with light oil to
prevent  corrosion.    If  these  parts  are  to  be  stored  for  any
length   of   'time,   they   should   be   treated   with   a   good  

rust
preventive
and  wrapped  in  special  paper  or  other  material
designed to prevent corrosion.
Repair
Replace   all   worn   or   damaged   parts.      Hex   nuts   with
rounded   corners,   all   lockwashers,   oil   seals   and   gaskets
should be replaced at the time of overhaul.
Use   only   genuine   International   replacement   parts   for
satisfactory  service.    For  example,  using  gaskets  of  foreign
material    generally    leads    to    -mechanical    trouble    due    to
variations in thickness and the inability of certain materials to
withstand compression, oil, etc.
Remove nicks, mars and burrs from machined or ground
surfaces.  Threads must be clean and free to obtain accurate
adjustment and correct torque.  A fine mill file or India stone is
suitable   for   this   purpose.      Studs   must   be   tight   prior   to
reassembling the parts.
When assembling component parts use a press
where possible.
Tighten  all  nuts  to  correct  torque.    :(See  torque  limits
following  service  instructions.)  Use  soft  iron  locking  wire  to
prevent possibility of wire breakage.
The  burrs,  caused  by  lockwashers,  at  the  spot  face  of
stud holes of cages and covers should be removed to assure
easy reassembly of these parts.
ASSEMBLY
Assembly
of
Power
-
Take
-
Off
Fig.  21.
Fig.  22.
1.
Install ball bearings on power-take-off shaft.
2.
Position wiper against inner bearing.  Install snap ring in
groove of outer bearing.
3.
Slide   shaft   assembly   into   housing   and   install   sliding
clutch on inner end (Fig.  22).
4.
Position a new gasket and install oil seal cage assembly.
Secure with capscrews and lockwashers.
5.
Place shift fork in groove of sliding clutch. Slide shift shaft
into bore of fork (Fig.  23).
6.
Line up recess in shaft with set screw and tighten screw.
Lock wire the set screw to fork.
7.
Install  expansion  plug  in  shist  shaft  hole.  If  necessary,
replace shift shaft oil seal located in front of housing.
Fig.  23.
CTS-2048Q  Page 9
PRINTED IN UNITED STATES OF AMERICA