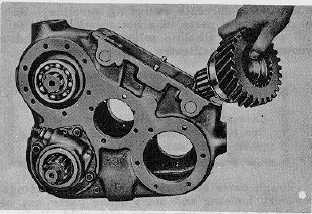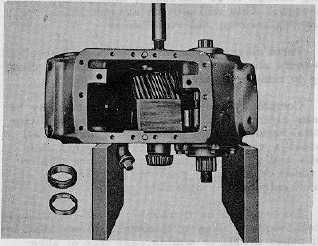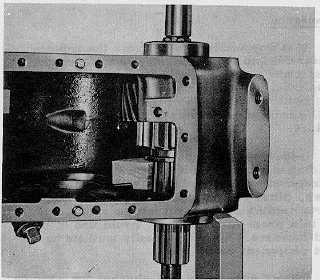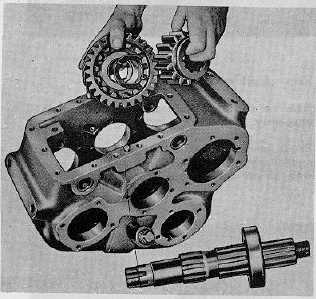 TRUCK SERVICE MANUAL
TM 5-4210-230-14&P-1
TRANSMISSION
Fig.  15.
Fig.  16.
Fig.  17.
26.   Remove speedometer drive gear and spacer.
27.   Block  gear  with  a  piece  of  wood  and  press  rear  output
shaft  and  front  bearing  out  of  the  case  as  shown  (Fig.
16).  The gear and rear bearing can be lifted out through
cover hole.
28.   Remove input shaft front bearing cover. Wire shim pack
together for reassembly.
29.   Using  a  block  of  wood  between  sliding  gear  and  case,
press out input shaft and front bearing (Fig.  17).  Do not
pound on shaft if gear becomes bound.
30.   Lift  out  sliding  gear,  drive  gear  and  Spacer  (Fig.    18).
Remove front bearing from shaft.
Fig.  18
Disassembly
of
Power
-
Take
-
Off
1.
Remove  capscrews  and  lockwashers;  /lift  off  cover
and gasket
2.
Take out detent spring and ball.
3.
Cut wire and loosen shift fork set screw.
4.
Tap     shift     shaft     out     through     rear     of     housing
(expansion plug will fall out).
5.
Remove shift shaft and shift fork (Fig.  19).
CTS-2048Q  Page 7
PRINTED IN UNITED STATES OF AMERICA